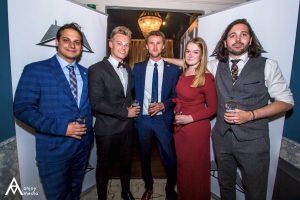 This week, I spoke to Pepijn Jehee (on the picture in the middel), 25 years old and chairman of S.V. Huize Bacchus. S.V. Huize Bacchus is a new student association based in Leeuwarden. The association allows people to meet new people from different study programs and colleges all around Leeuwarden.
By: Mirjam Schuinder – photo: Pepijn Jehee
This student association started when Pepijn and his friends frequently went to Shooters, a bar in Leeuwarden. There was a big group of people around him that wanted to join a student association, so they started one themselves.
Unique
The unique aspect of Huize Bacchus is that they have not introduced any hazing and that there are no obligations for the members. You can just come and go whenever you want. Members also get to know many people outside of their education or school. Huize Bacchus mainly has members who study at Van Hall Larenstein and NHL Stenden. The goal is not to create an elitist association, but to form a pleasant group of people. They usually have regular activities on Wednesday, several examples of activities are tastings, bowling, pooling, swimming evenings and many drinks.
When I asked Pepijn what he likes best as the chairman of the association, he answered:
"I like the fact that you know everyone at the association and that you now learn a lot about how an association actually works. You also build an incredibly large network of sponsors and other associations."
Then he continued telling about their first annual gala, which was held on the 12th of June at the Boutique Hotel Cathuis. The gala was the best activity they had so far for Pepijn. Everyone was nicely dressed and looked good.
Social involvement
That the association is also socially involved, becomes clear after hearing about the collaboration between Huize Bacchus and the National MS fund: This is the national organization for people with Multiple Sclerosis (MS), a disease of the central nervous system that has more than 16,000 patients in the Netherlands.
On July 2, 2018, a board member was approached by Kriti de Jong (MS Fund Leeuwarden) whether they might want to work together. After a couple of hours of talking, they decided to join forces. The main reason for this is that Huize Bacchus, as a student association, were given the opportunity to give something back and also want to do so. It is still a relatively 'unknown' disease and the aim is to contribute to the awareness so that more resources can be collected/purchased for research. Little is known about the medication that can cure this disease, so far only those that delay the process. The association supplies members who will do volunteer work in the National MS Week.
Join and make friends
He and the other 3 members of the board built the association to 120 members within 2 years and this is still growing. He really encourages everyone to join a student association when studying in Leeuwarden because you can get to know students so easily:
"What I hear from members around me is that they have the time of their lives and that they made many new friends," Pepijn said.
Have you become enthusiastic after reading this article and would like to be part of this association? You can register via the website www.huizebacchus.nl/, or you can contact one of the board members.