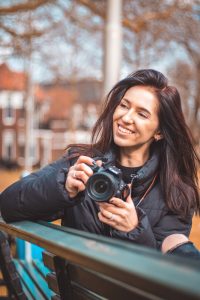 Studying abroad comes with a lot of opportunities and the chance to meet students all around the world, and the university NHL Stenden is a perfect place for that. Meet the Creative Business student Aneta Gaidamovic, who is 21 years old girl from Vilnius, the capital of Lithuania. Aneta is a second-year student, and her hobbies are photography and design. I had the chance to interview her and ask her about her studies.
By: Iva Karafmilova
Aneta was looking for a study program that is different from other studies. What dragged her attention specifically to Creative Business studies were the internship options at the big companies and the wide variety of career opportunities after graduation. At first, she doubted between the Netherlands and Denmark, but since she already had spent a year in the Netherlands, she decided to choose NHL Stenden in the end: ,,What grabbed my attention were the study programs and specifically the minor opportunities in Thailand, Bali, and Qatar. I love the fact, that we have many internship options at prestigious companies and after graduation, we have a wealth of career opportunities."
What she likes most about the Creative Business course is the amount of freedom that it has and that the study time is flexible: ,,I can be as creative as I want, and there are no limits. Due to the COVID-19 pandemic, studies became even more flexible, so I can easily combine my job with studies and StuCo!" Besides that, Aneta likes that studies highlight the importance of giving and receiving feedback, sharing opinions, and just being open-minded.
Aneta especially likes Leeuwarden because there are many places to go like cozy study corners and restaurants.: ,,I was very excited when I moved to Leeuwarden a few months ago. Leeuwarden itself is a beautiful, small, and cozy student city, so it wasn't difficult to adapt."
The creative business student likes to spend her free time shooting pictures and designing posters, but what inspired her to start? From a young age, she and her sister were very artistic kids. Aneta was drawing all the time but quickly became bored, that is when she found out that she has an interest in photography: ,,I used to draw a lot – on paper, my body or even face – I liked it, but I was getting bored very soon. As time went by, I noticed that I enjoy taking pictures in that way I can express my creativity and don't get bored very quickly."
The talented student shared that she would like to make a career path in design and photography, that is why she is part of the StuCo's Design Department, where she designs posters, flyers, and other designs for StuCo's social media. Moreover, she told us that she decided to start a company with a friend of hers, where they will offer photography and videography services. Not only that but as well as graphic design and social media managing services. How cool is that? We wish her lots of luck with her new business, and we hope to see her again.
Picture by Aneta