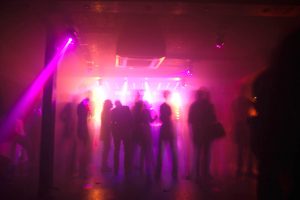 Right around the corner of Grote Hoogstraat at Poststraat, we can find club 21Leeuwarden. It is a small venue, which 'stands for underground and where all styles are completely free.'  Its main focus lays on quality of sound and light. Just because the capacity is small, the place welcomes loving visitors only. Nevertheless, 21Leeuwarden is well known for its great techno parties. If you ask around for a good techno event, you will definitely be sent to this charming place. Some week or two ago, when a bright weekend off work happened, I went to visit and see for myself.
By: Patrizia Rangelova – photo: Rick Kuijpers
At the door I met a really friendly guy, which name for this story is not of big importance. Before I went inside, I decided to stay for a cigarette and small talk that gave me some inside information on the event that's happening. The person who was collecting the entrance, also really friendly, joined our little conversion. Turns out the event is hosted from a local-based organization, the genre is techno and house, the vibe is groovy, and people celebrate the charms of life on a Friday night. This was enough to catch my full attention.
The suspense is rising
When I finally entered, the first challenge to overcome was some proper Dutch stairs, even though I got numb after few years of living here so it didn't scare me, and I managed like pro. Upstairs, I left my jacket to be taken good care of by the sweet girl that was working at the wardrobe area. Continued through a tiny corridor to enter the dancefloor. The lights are dimmed, the music is building slowly, teasing each of your senses, the suspense is rising… And then, it all kicked in, the beat, the lights, the music, the overwhelmed crowd cheering for the DJ, their hearts full of happiness and joy.
At this place where the dancefloor meets the people, where positivity is in the air, where the music is just so good, we are going to unite with the night. Let's just go and dance, smile, let's just play some techno. To be continued.