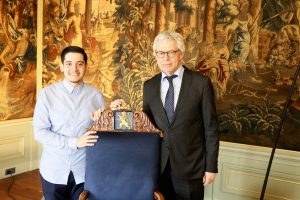 LEEUWARDEN – Mayor of Leeuwarden, Ferd. J.M. Crone, hosted Eric Blomqvist and me at the city hall. We had a chance to talk about students, cultural capital and many other things. According to the Mayor students are important for the cultural capital for next year. Also, we heard that Groningen university will open a new campus here, in Leeuwarden.
By: Evren Baba – photo: Eric Blomqvist
Do you have any plans in the future to increase the attractions of the students to this city?
,,Now, we are working on a new campus with the Groningen university. There will be new master and bachelor degree programmes within one or two years. Then, there will be more than two thousand new students. Of course, also with professors and other employees of the university. At this new campus, there will be a wide range of studies. We are so close to Amsterdam. It's just one and half hour by car and two hours by train. So, that's also a big plus".
Next year Leeuwarden will be the Cultural Capital of Europe. Can we learn about your goals about this and what do you plan to achieve?  
,,Important is, that we will have a lot of guest in our city and there will be lots of cultural activities. Right now, with cultural activities, we also invest to the legacy. We want also people to discuss about problems that are actual in the rest of the Europe. For example; how are we going to combine city and country side? How can we reserve diversity or how can we resolve climate change? We will have a lot of people from Netherlands but also from whole Europe and rest of the world".
Do you have any plans for making students include in the activities of the Cultural Capital?
,,There are already some initiatives from NHL, VHL and Stenden universities. They work together with organizers to connect students to the activities of cultural capital. I invite all the people who read this interview to join and take place as a volunteer in our activities. You can do a lot of things if you want. In combination with your study or something else. You can help organising activities which is beneficial for yourself and for the cultural capital".
Other than cultural capital, do you have any special plan or project for the students?
,,A lot of projects will be done. For example, students will work on sport-projects, biodiversity, agriculture etc. Because, we have a lot of unique animals in here but also we want to and we have to protect them and keep this in that way for many years. So, many students from VHL University will work with that. In addition to that, students at Stenden university will work in their hotels, restaurants, etc."