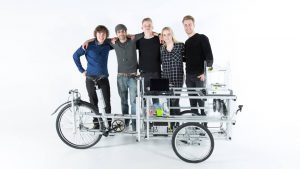 LEEUWARDEN – As Cultural Capital 2018, Leeuwarden needs to make sure that it stays innovative, creative and supportive of young individuals with great ideas. However, another thing that has to be considered is the environment. How can people make sure that they are not harming the environment with their projects and activities? How can we make our surroundings more pleasant and reuse the waste we have created? Lastly, how can we encourage people to look into themselves and strive to make a change?
By: Kristina Bogoeva
The answer to all of these questions was the project of 5 students from Frisian Design Factory. The 20-year-old Alec Meijerink and his team set out to create a completely portable platform in the shape of a bicycle, which aims to teach young children about the importance and the process of recycling. Furthermore, the bicycle uses the recycled plastic as filament for 3D printing. In other words, the bike could recycle an old plastic bottle and make a completely new product out of it. The project is called De Slimme Trapper and it was initiated by the Bibliotheek Service of Friesland.
Made for children to learn
The platform allows the observation of the whole recycling procedure and could be transported to different locations. The main goal of the project is to make children more familiar with the process and to get them thinking about the importance of reusing old materials and being more environmentally-friendly.
The reason why the project is so inspiring is because the idea is simple and it leads to a conscious improvement in our society. The bike is planned to be taken around schools in the Netherlands and its purpose would be to educate children about recycling in a fun way. Alec also explains that the bike is currently undergoing further development when it comes to the recycling machinery and will begin to visit Dutch schools this year. This wonderful idea has generated a lot of interest in Leeuwarden and has won the students priceless acclaim.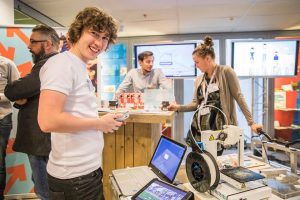 For more information about the project, visit their website http://slimmetrapper.nl/ and if you wish to stay up-to-date with the development of the project, visit their Facebook page https://www.facebook.com/slimmetrapper/
photos from De Slimme Trapper Facebook page