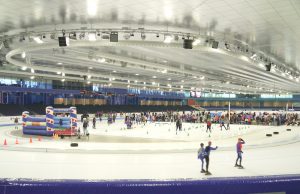 HEERENVEEN – Outdoor rink, roofed stadium, 12.500 seats and several world records. Thialf – a place to set new world records, enjoy diverse ice sports and visit with your family. Thialf is an ice arena in Heerenveen, Netherlands, which long and great history started in 1855, when the Thialf nature park was constructed. However, the official opening of Thialf was in 1967 by Princess Christina. By and by, Thialf extended with an outdoor rink, which foundation was laid in 1967 and a roofed stadium, opened in 1986. From then on, Thialf belong to the absolute top of global skating and became the second ice arena in the world.
By: Madeleine Lehmann
The ice arena is mainly used for ice sports, such as long and short track speed skating, ice hockey, curling, art skating and figure skating. Moreover, a great variety of courses is offered for each sport enthousiasts, be it youths, sport clubs, housewives or top athletes. Qualified trainers accompany the courses in each level. No wonder that Thialf is called the heart of international ice skating. It is well-known for holding yearly international and national sport tournaments and championships, such as the international ice hockey tournament IIHF World U18 Championships and the Speed Skating World Cups.
World records
Over the years, numerous world records were set at Thialf, due to the given conditions. For instance, from the athletes Sven Kramer and Andrea Schöne. The roofed stadium allows controlling the inner climate, which leads athletes to a better performance, such as in the first season, where almost every world speed skating record was broken. A special feature is the access to the center of the 400m lane by using an elevator and tunnel. Especially, during tournaments, this access is an important feature for athletes to reach the center of the ice area. The name Thialf has its origin from various sayings. For instance, Thialf means Norwegian God or King of Winter. It is also referred to the Norse mythology of Thialfi. He was the servant of Thor and raced a giant. Thialfi was characterized as real daring, very sporty and clever. All sayings combined, it is a fitting name for an international recognized sports ice arena, which meets sport activities, strength and top athletes.
Visit the spectacular and historical ice arena, join a sports group, visit a championship or visit it with your family to convince yourself of Thialf as the heart of international ice skating.