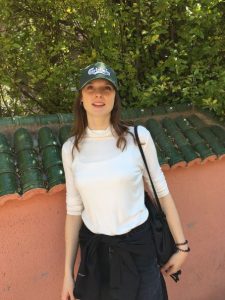 My name is Annika, I am currently 20 years old and from Germany. I grew up in a small town, Göttingen, which is in the middle of Germany, and to me, it seems to have a similar flair to Leeuwarden, except that there are hills there. For a while now I have been living in Oldenburg, which is further in the north and only 3 hours by train from here.
When I was in Leeuwarden for the first time, my parents, my brother and ten-year-old me were on a house-boat tour through the Netherlands. We stayed one night in Leeuwarden and although I was a lot younger and had no idea what town this was, I knew I loved it. The way the bright, big windows of the old houses in the city center filled the streets with light made me feel very welcome.
Fast forward to summer 2019, as I was looking at study programs and universities in Germany, I stumbled upon the website of the NHL Stenden. The Creative Business course caught my attention and when I realized I could be studying in the town I had admired so much back then I seized the opportunity. Since September I have been a student in the city and am writing some articles for YourPost as an assignment.
I adore the coziness but equal activeness of this city, and I feel especially drawn to the farmers market because of all of the fresh colors and food, the lovely smells and friendly people.