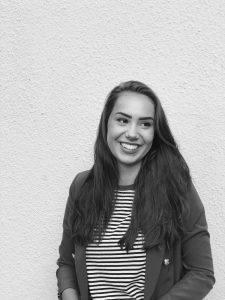 Hi! My name is Mirjam Schuinder. I'm a 21 year old Media & Entertainment Management (MEM) student at NHL-Stenden. Before the introduction week (Study Start Week) in year 1, I had never been to Friesland or Leeuwarden before. I immediately fell in love with this old city full of culture and charming canals. Originally, I'm from Hoogeveen, a small town in Drenthe which is about one hour away from here.
After studying in Leeuwarden for 6 months, I decided to move to Leeuwarden. Luckily, I found a small studio right in the city centre where I have been living with great pleasure for about 2 years now. My favourite place in Leeuwarden is de Prinsentuin, a park where I sit and relax on sunny days. Most of the time this place is full of people/students from all over the world, something I also really like.
I am currently working on the Media Productions module, a practice module within my studies. This module brought me into contact with YourPost. Here I get the chance to learn how to create content, practice writing articles and how to interview. After this module I have finished my studies and will move to the West of the Netherlands. I am sure I will miss the small and cozy Leeuwarden.