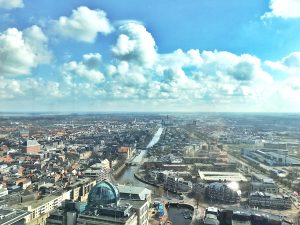 There are many beautiful locations in Leeuwarden that are worth a visit, but we are limited to going to them one by one. However, to see it all at once would be an incredible experience. How would that be possible? Well, from above, of course!
By: Alexandre van der Struijk
When coming to Leeuwarden you can spot from quite far away that you are reaching your destination, as the first thing you can see is the Achmea Tower. Tall and dark, with its iconic red stripe at the top, the building is well-known and one of many designs created by Abe Bonnema, a famous Frisian architect. Have you ever been to the top? Probably not. Well, now you can.
Abe Bonnema Experience 2018
Thanks to the Abe Bonnema Foundation and Achmea, during 2018 it will be possible to go to the very last floor of the Achmea Tower and take in the amazing view that its 114 meters provide. There is more, though, as the Abe Bonnema Experience 2018 allows visitors to learn more about other designs created by Abe Bonnema, such as the Nationale Nederlanden office, in Rotterdam.
What to do?
Once at the top, it is possible to have a 360 degrees view of Leeuwarden and spot your own house, school and many other remarkable places in our beloved Leeuwarden. In addition to that, the floor is covered by a map of Friesland, giving you an even better perspective on things and where to look for something specifically. The experience also allows you to get further insights in other designs by Abe Bonnema through various interactive touch screen panels.
When? Where? How?
If you would like to experience this unique view for yourself, the Abe Bonnema Experience 2018 takes place every Saturday until the end of the year and prices are very accessible. There are 6 visits every Saturday and each last about 30 minutes, so make sure to pick the right time and enjoy the view.
For tickets and more information, check out https://goo.gl/6LRJ63.