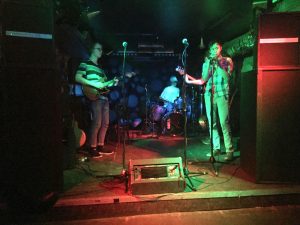 Ever since I arrived in Leeuwarden, I started to browse for some cool no-nonsense music spots, which I couldn't really retrieve at home. Since day one, I figured out that the place was packed with schooled musicians and people who were as passionate and sound-craving as me, so that made me happy.
By: Tomás O'Reilly Gallardo
Meeting musician Leeuwarders
I got tangled in conversations for hours and hours about artists I thought only I knew (J.J. Cale and Vulfpeck, for starters) and guessed this place would give me some nice surprises. I wasn't wrong. One of the first places I visited was Scooter's Café, a nice bar with a nice stage you can see from the window, where all sorts of people would mingle and some unexpected things would happen, specially by adding Scooter's' secret ingredient: karaoke.
First step into Mukkes
Over a fortnight ago, I finally wandered into Mukkes. I'd heard of this bar before, but the Dutch name was too difficult for me to remember from the first time I'd heard it. I was with a group of Dutch guys, all around my age, some of which I'd already hung out with. After some predrinking & chill, we headed over to infamous Mukkes, about which I was very curious since I'd been told I would like it because it was a very underground place.
Indeed, blasting punk music hit me in the face as soon as I pushed the heavy door. In fact, I wouldn't be surprised if someone told me the stickers that cover the door make them a couple of kilos heavier. Once inside, the vibe was different, rougher than any other place in Leeuwarden, but that is what makes it charming. There weren't too many people, although conversations didn't flow easily.
Jammin'
After settling in, some of the people from the crew I was with started preparing their instruments: bass, drums, guitar and a trumpet. A priori, this didn't seem to me like the most suitable setting for such a line-up, but as soon as those guys started jamming, they proved me wrong. The combination of both technique and good taste that was on stage made the crowd revere. The coming-and-going of blues, rock, funk and soul harmonies had everyone attentive of what their next move would be. Smooth is probably the word that suits the most.
After like 20 minutes, by the time the guys had finished, the bar was a lot more crowded and craving for some more music. At the end, I was flattered when invited on stage to play bass, but, obviously I couldn't match the talent, although the sole fact of playing with other people brings joy to everyone around. Instrument owners were coming and going, lending and borrowing, and of course, jamming with each other.
Apparently, Mukkes shelters all the music that wouldn't fit in the Leeuwarden mainstream, which is highly regarded and sought for by that kind of people who want something else. For me, this is just the beginning in discovering a new city and its hidden music gems.