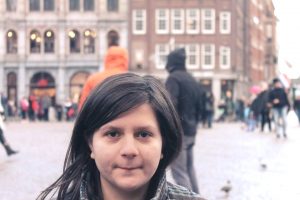 Being a student in a foreign country is hard, as you have to get to know the culture, the habits and how everything is working. However, this did not happen in Leeuwarden where everyone is welcoming you with open arms.
Comfortable and safe
As an Eastern European, coming from Romania to Leeuwarden can be a 180-degree change, as everything is different: from food to mentalities and personalities. Recently I have done an interview with some of my Romanian colleagues studying at Stenden University, asking them about their impressions on Leeuwarden and what differences they see between the Eastern part and the Western part of Europe. Some of the answers were related to the city, as most Romanians believe that Leeuwarden is a small city, being a combination between modern and old, but perfect and welcoming to students from all around the world. Some of the Romanians mentioned that they feel comfortable and safe in Leeuwarden, and there are always activities to do.
Enjoy life
As far as the habits and mentalities are concerned, some of the Romanian students felt the biggest cultural shock, as here people are open-minded and willing to encounter challenges. The financial and social status doesn't seem to matter, as people, in Leeuwarden, seem to take their time and enjoy life as much as possible. Moreover, Leeuwarden has some of the friendliest people I have ever encountered, as they greet you on the streets without knowing you, help you out with your errands and smile all the time.
Street market
Furthermore, Dutch people, especially in Leeuwarden, tend to have a sweet-tooth regarding food, as there are "oliebollen" trucks all over the city. During the weekend, when everyone is going out to shop or enjoy the day, in the city center there is a temporary street market, where trucks, with sweets, cheese and sausages are offering free samples in order for you to try the best Dutch food.
Even though being in a foreign country might seem difficult, coming to Leeuwarden was the best choice, for me and for other Romanian colleagues, as we found in Leeuwarden a home away from home.