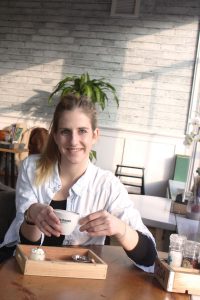 How to introduce myself? Let's see: My name is Anna Greifeneder, I am 23 years old and I am currently an exchange student Communication at NHL Stenden. I am born and raised in a small city in Austria, called Wels. It was always one of my wishes to study abroad and therefore, to get the chance to be part of Erasmus programme for one semester seemed perfect to me. Originally, I am studying economics in Austria and before I graduated at an art school. I am really happy how my life developed and that I am here now, in Leeuwarden and at YourPost.
By: Anna Greifeneder
One of my favourite writers, Lewis Carroll, pointed it out in perfectly:
"IN THE END… We only regret the chances we didn't take, the relationships we were afraid to have, and the decisions we waited too long to make."
I remember the day I arrived in Leeuwarden at the end of January, it was quite cold and rainy and I liked the city from the first glance. You can feel the Frisian blues and the warm atmosphere of a small town. People here are so open-minded and friendly, also to me as a foreigner, so I really felt immediately welcome here. But for me the most surprising thing was, that people don´t complain about the bad weather and act as if it would be sunny.
I really love to walk through the city and find new places beside the common tourist attractions, such as small cafes and vintage shops, local (flea)markets, concerts and restaurants. Currently, for me as a café-junkie my favourite spot in Leeuwarden is "Brownies & Downies", a very nice and special café that I can warmly recommend.
Additionally, I enjoy the possibility to be part of the Cultural Capital. I already experienced the Cultural Capital in 2009 in Linz and I am curious about the new Cultural Capital Leeuwarden and I am really looking forward to explore this incredible city.