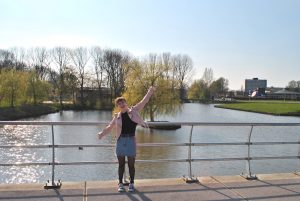 Hej/Hoi/Hello to you dear reader! My name is Nanna. I am a 25-years-young Danish Viking. Yes, I am a very proud Dane. I think I am the typical Scandinavian girl – blue eyes and dark blond hair. I was born and raised in Roskilde, I don't know if you know where that is, but it's 30 minutes from Copenhagen and very famous for Roskilde Festival, which is also the biggest festival in Scandinavia, ring a bell? No? Use google.
I don't live in Roskilde anymore, but in Herning (Jutland), where I study Branding & Marketing Management. And now I live here, in Leeuwarden. I moved to Leeuwarden to study abroad as an exchange student at NHL Stenden University of Applied Sciences, and here I am studying Communication with eight other exchange students. They are very nice people!
I never really thought about studying abroad, but I needed some motivation to keep going on with my studies, so I decided to go. I chose the Netherlands because I have family here – my aunt is Dutch, and she is married to my uncle. For me there were not really other options – I liked the thought of having them close.
Since I had already been in the Netherlands several times, and developed a love for this country, it didn't feel that strange to me. I have been here for two months, and it is amazing! I am falling in love with the city. It feels like I have been living here for ages, and I have made so many friends. Honestly, right now, I don't feel like going home. The city is not too big, nor too small. It's very cozy and there are a lot of "secret" places to discover. It's a beautiful city and people here are very welcoming!
I use the city a lot for studying, which I think it's perfect for. There are so many cafés to choose from and you can easily spend your entire day at one of them. One thing though – I haven't yet found a hairdresser that I trust. If you are reading this and thinking about going abroad, I have one single thing to say to you: Do it.