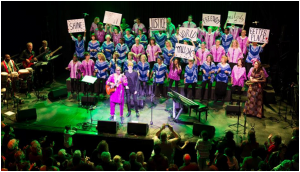 All for One Foundation is the first and only multicultural gospel choir in Friesland and was founded in January 2011. Their aim is to spread the message of gospel music, to connect different cultures to each other within Friesland and environs. Later the name became All for one gospel choir. By the initiative of musical director Wilco Kloosterman and – of African origin – musician Basile Maneka were twelve singers together to start a new gospel choir. Meanwhile, the choir has about fifty members of European, African, Surinamese and Antillean origin.
By: Stephen Krans
All for one gospel choir has great inpact on all students from the Colleges in Leeuwarden. For example, Stenden University, NHL, Van Hall Larenstein, just to mention a few. The repertoire includes English Praise & Worship, traditional African gospel songs and original compositions. Friesland is one of the great provinces in the Netherlands that is rich in culture. A multicultural gospel choir with more than fifty singers with their origin in more than ten countries, for example: Nigeria, Congo, Spain, Germany, Hungary, the Netherlands Antilles and of course The Netherlands.
The choir sings in different (African) languages like Lingala, Kikongo, English, Spanish and Bemba. They perform in churches, festivals and theatres. All for one gospel choir is a great opportunity to meet people and to learn from each other.
Brief history
Meet one of the founders and music directors – Wilco Kloosterman – born in 1975 in Leeuwarden. He began his musical career at the age of eight at the music club "De Lofstem" in Suameer – Friesland (http://www.delofstem.nl) At his nineteenth he began at the pre-school of the Christian High School for the arts "Constantijn Huygens" (now ArtEZ) in Zwolle. He was active as a music instructor in various jazz, Latin and gospel formations, he led some brass bands and fanfare orchestras, but soon his heart seemed to be with (gospel) choirs.
How did you find this name?
,,All the choir members are different but we all have the same passion for singing our music and of course our faith in God. We preach the same faith to the entire world through our music. We really want to connect people together and we want to prove to the world that music is universal language".
When do you normally have a concert, is there any particular venue for the concert?
,,Most churches in Friesland invite us to sing when they have special programs. For example, Christmas day, anniversaries etc. In Leeuwarden we normally have our concerts in Stadsschouwburg de Harmonie or in Neushoorn. This year we will have our concert on 20 and 21 of May in de Westerkerk, together with The Young Christian Singers, another gospel choir from Leeuwarden."
How do you cope with other religions in Friesland?
,,We respect and accept other religions. Our goal is to connect people, different cultures and also religions.We believe that different religions should be able to live together".