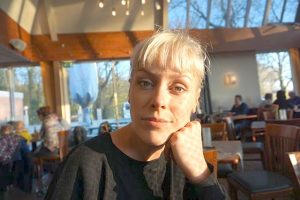 Once the corona virus outbreak was upon us, people's lives all around the world changed drastically. No longer were we able to go to work, visit new and interesting places, or meet most of our loved ones. Everyone is trying to deal with the situation and make the best out of it. Let's look at Nienke van der Ploeg, a theatre teacher who works at Loods13 Theatre in Emmen, the Netherlands. Let's see how she is giving her acting classes and staying productive during these unprecedented times.
By: Filip Svechev
Nienke van der Ploeg is a theatre teacher, producer and actress. She graduated at the ArtEZ Academy for theatre in 2008, and since then she has been working at Loods13 Theatre in Emmen: "I am very proud that I've been working here for so long with people that have a passion for this field".
Like many others, Nienke has had to teach her classes remotely. Acting, however, is not something that can easily be taught online: "It's not really possible to give a drama class online. In my opinion, being together physically is a necessity". That being said, she doesn't focus on the bad things. "I was challenged to design the classes in another way, which influenced my creativity positively." By giving her students creative assignments and exercises they can do from home, she is ensuring that they will keep improving their acting skills.
Nienke's workplace has already been made "corona-proof". Loods13 TCoheatre only allows a smaller audience to attend each performance. Soon, they'll start teaching classes face-to-face to small groups of students. Nienke is eager to see how this new way of tutoring will turn out. She is determined to make each class worthwhile and interesting: "I notice that this whole crisis activates me and that is truly something positive."
Nienke's theatre group, Met de Botte Zijde, is facing a difficult time, however. Due to the pandemic, all of their performances have been cancelled. And, since they are a rather new group, they won't have many performances the upcoming theatre season. Those are saved for better known groups: "All plans will probably be postponed and now it's time to look at what we can do during these times". For now, Nienke's group will try to increase its awareness by creating short movies. These will appear online in the future.
Nienke claims that the current situation allows artists to be creative in new and different ways. She believes that the most important thing for them to do right now is to work together. "I am convinced that working together brings new inspirations and beautiful projects."