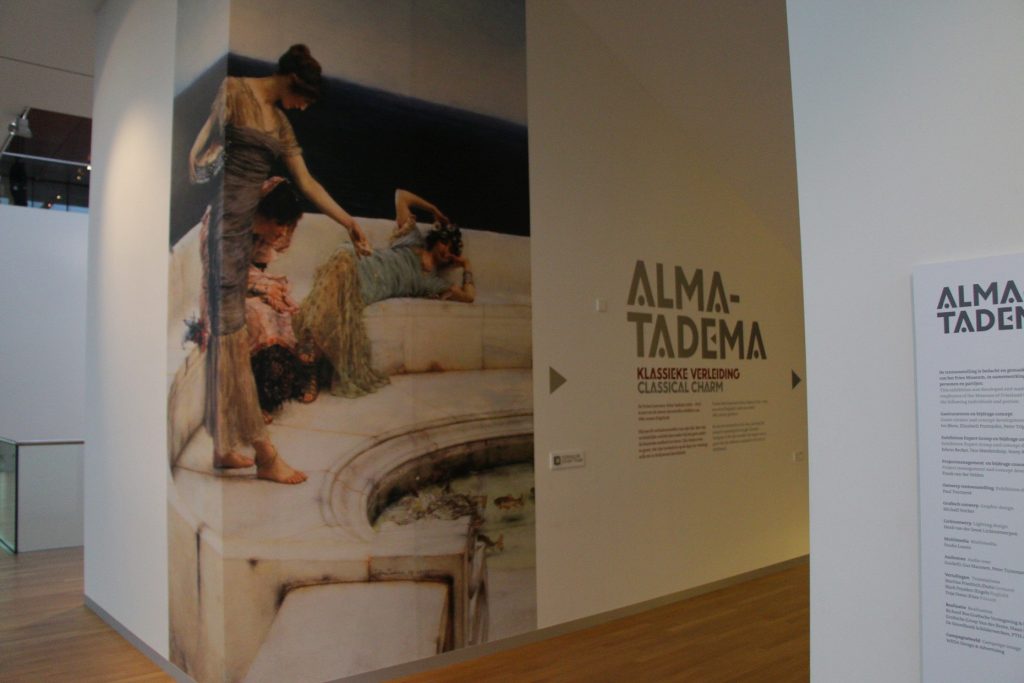 LEEUWARDEN – 'Epic', 'dazzling', 'spectacular': all terms used by The Guardian UK and The Huffington Post US to describe the Alma-Tadema show in the Fries Museum in Leeuwarden, Capital of Culture 2018. With his seductive scenery and vivid and realistic evocations of the classical world Alma-Tadema manages to enchant all his viewers. As a convincing storyteller, he brings stories from classical ancient world to life through his paintings. Even Hollywood noticed him, using his paintings as an influential blueprint for the visual language of many Hollywood films about this classical era. Walking around the exhibition, visitors feel like being on the set of blockbusters such as Ben Hur or Gladiator. According to Ferd Crone, mayor of Leeuwarden, 'Alma-Tadema has been a secret in the Netherlands, but one we now hope to share with many people'.
By: Sharon Cornelissen – also published at www.omroepleo.nl: http://omroepleo.nl/award-winning-exhibition-about-alma-tadema-in-the-fries-museum/

The Alma-Tadema exhibition in the Fries Museum in Leeuwarden has recently been awarded with the Turing Toekenning 2015, a prize by the Turing Foundation rewarding the best Dutch exhibition plan once every two years. With his remarkable use of space, his archaeological knowledge of classical antiquity and his almost idyllic images, Alma-Tadema creates vivid, realistic and appealing paintings that bring the days of the ancient world back to life. The exhibition "Alma-Tadema: Classical Charm" is in the Cultural Capital of 2018 until 7 February 2017. It consists of eighty paintings, taking its viewer on a journey throughout the painter's entire life – from a teenage self-portrait to his most valuable work The Finding of Moses (1904).
Masterpieces
This masterpiece, The Finding of Moses, has recently been sold for a record amount of $35,9 million. It's the first time this painting has ever been exhibited in Holland. It was found in the 1950s, abandoned in an alley, removed from its original golden frame that was the main reason why it had been bought. But next to this unbelievable recovery, the exhibition also features another painting that has recently dominated the headlines. The Portrait of Leopold Löwenstam was resurfaced in September 2016 on the BBC's 'Antiques Roadshow' and is now in public exhibition for the first time. The painting displays an affectionate portrait of Alma-Tadema's engraver and close friend, Leopold Löwenstam. It was given as a wedding present to Leopolds bride, Alma-Tadema's nanny. With these two incredible paintings, along with the entire displayed collection, the exhibition "Alma-Tadema: Classical Charm" explores his personal life and his artistic career.
Sir Lawrence Alma-Tadema (1836 – 1912) was born as Lourens Alma Tadema in Dronrijp, a little village close to the city of Leeuwarden. After being educated in the city, he moved to Antwerp at the age of sixteen to study painting at the Royal Academy of Fine Arts. During his honeymoon to Rome and Pompeii he was captured by the love of the classical ancient world. This inspired him in a way that proved to be outstanding: he started producing the antiquity-themed paintings he is now currently famed for. Because of his love for archaeological knowledge, he started to collect (photographs of) Greek and Roman antiquities, eventually owning over 160 volumes of them. This research enabled him to paint realistic images of ancient life, true to history. With his sense of spatiality, he almost creates mythical quality, making viewers feel as if they are actually part of the scene.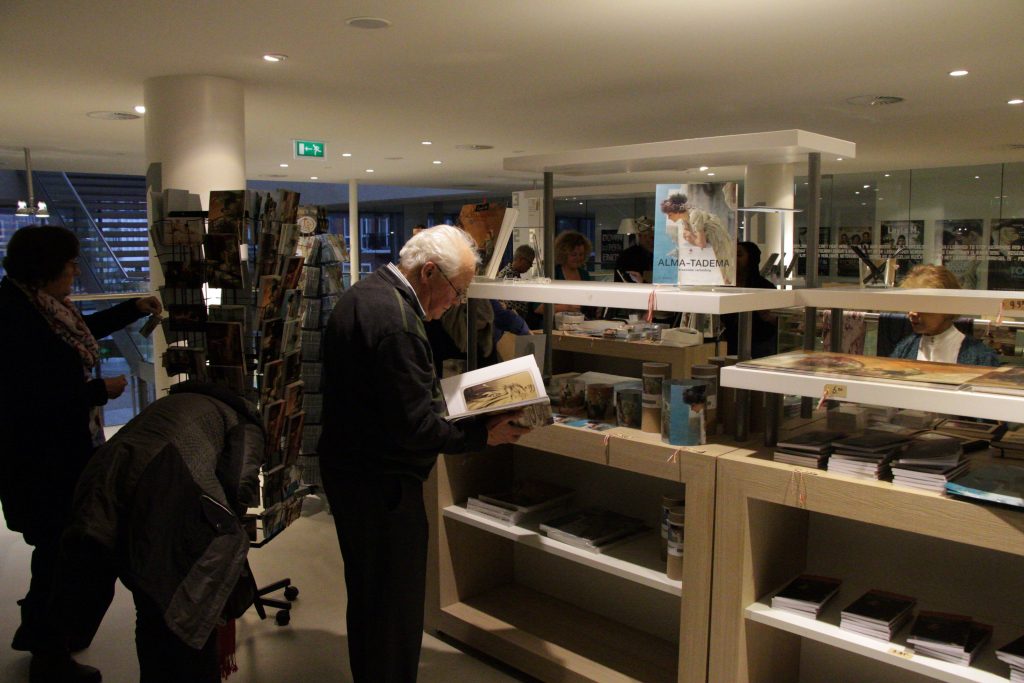 In the shop of the Fries Museum, one can find numerous items regarding Alma-Tadema
After becoming a widow, Alma-Tadema moved to London with his two young daughters in 1870. His Belgian dealer also had a gallery here, and antiquity-themed paintings were highly in fashion among English collectors. He changed his name to Lawrence. In London he rose to fame, becoming one of the most renowned and best paid artist of his time. Eventually leading up to his title of Sir, being knighted in 1899 by Queen Victoria.
At the age of 35 he married his second wife, Laura Theresa Epps, only 17 years at the time. His second wife and his two daughters, Laurence and Anna, were all gifted artists as well. In the 1880s the family moved to a giant house, that they completely decorated in antiquity style. He spent so much time decorating the interior, that his dealer growled that he should be doing some more painting instead. This giant palace was the decor of many highly appreciated social gatherings, visited by some of the most influential and well-known people of that time. Alma-Tadema wasn't just a painter; he was a crafty businessman. He used these get-togethers to socialize and build his network.
It's also this business sense that leads to his international fame. He understands that, for him to become internationally known, it's important to produce reproductions of his work. Together with various artists, such as the engraver Leopald Löwenstam, his work appears in several forms, shapes and sizes. Being a true perfectionist, word goes that Alma-Tadema got furious when things weren't up to his standards.
Death
The painter eventually died in 1912. He was buried at St. Paul's Cathedral. After his death he quickly fell out of fashion, due to his kitschy scenes. Hollywood however, became inspired by his enchanting portraying of the classical ancient world. Generations of filmmakers and designers used his work as a source of inspiration for the settings of their movies. This meant a revival of Alma-Tadema's work. The exhibition shows the way in which his paintings were converted into moving images for film spectacles, such as Gladiator (2000) and Exodus (2014).
The exhibition "Alma-Tadema: Classical Charm" provides its viewer with a retrospective of the work of this influential painter. A 19th century painter that truly brings stories from the classical ancient world to life. The exhibition displays eighty different paintings, among those his masterpiece The Finding of Moses and the internationally known Portrait of Leopald Löwenstam. It takes its viewers on a journey throughout his whole life, also showing his influence in Hollywood through the use of moving film images. In addition, the show features 18 works of his second wife and his daughters, all gifted artists as well. It runs until 7 Februari 2017 in the Fries Museum in Leeuwarden, the Capital of Culture 2018. After this, the exhibition will go on tour through Europe. It travels to the Belvedere Museum in Vienna, where it can be viewed from 23 February 2017 to 18 June 2018. From 7 July 2017 to 29 October 2017 the show is located at the Leighton House Museum in London.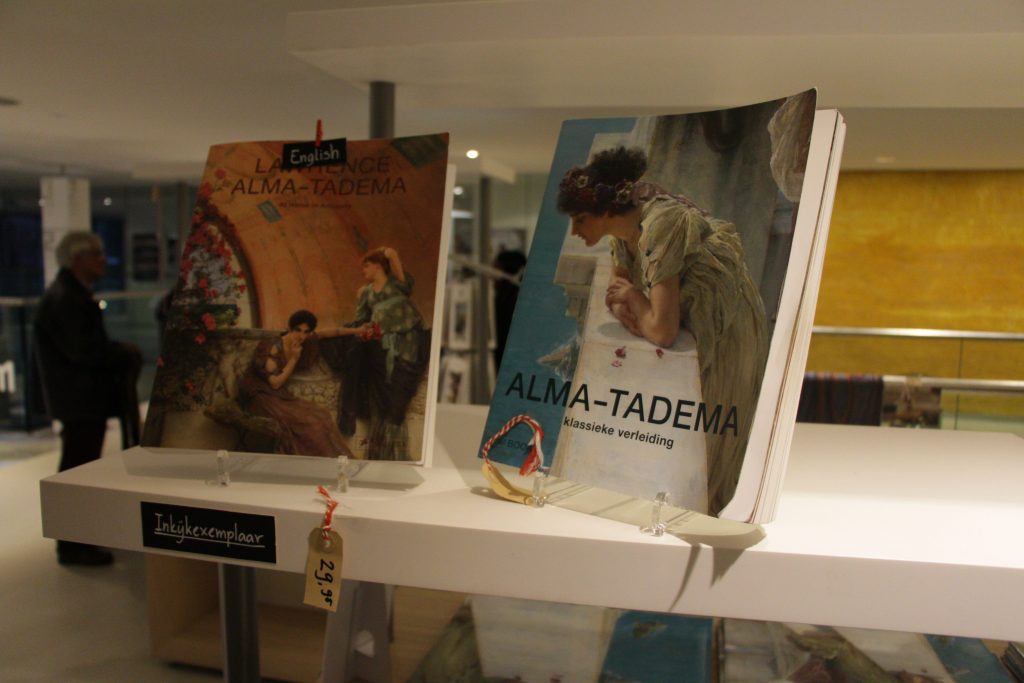 Books about the work of Alma-Tadema in the shop of the Fries Museum