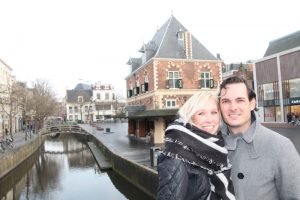 Kelly Mulder (25) from Leeuwarden moved to Canada for love. In Beamsville (near Lake Ontario) aside from her fulltime job, she teaches Dutch. She also does a lot of PR for the municipality of Leeuwarden. Together with her students, she's making plans for a special trip 'Leeuwarden-Fryslân 2018′.
By: Aukje Mulder – also published in HuisaanHuis
When the Canadian Chuck van der Wier (34) in May of 2013 went on holiday to The Netherlands, he promised the home-front he would return with a beautiful, blonde, Frisian woman. Was this a joke or a premonition? Whatever it was, the exact thing happened in the last week of his stay. Chuck met the blonde, Frisian Kelly through a shared acquaintance in Leeuwarden. For him, it was love at first sight. ,,I needed a little more time", said Kelly. ,,But we kept in touch. In August I flew back to him for a holiday and at that moment the spark had truly lit." They bought a house together, where Chuck's children from a previous relationship visit regularly.
Enjoyment
,,I never thought about Canada", said Kelly. ,,I am a real Leeuwarder and was always very happy there with my family, friends and job with Trip Lawyers. At present, I am working as an insurance receptionist. Thanks to Chuck, my in-laws and my new found friends, Canada feels like home. There are times when I miss the enjoyment, the 'grabbing a coffee' in the city centre with a girlfriend. And the freedom that is a bicycle to just jump on and cycle to the centre for a little shopping. In Canada they don't have cycle lanes. Because of the fast distances they have racing bikes. It you want to shop, you've got to go to one of those big shopping malls."
Chucks mother and father are from Friesland. At the age of six, they both arrived in Canada with their parents. Starting a family, the Dutch language faded away. ,,That's what happened to a lot of families with Dutch roots here in the 'Dutch Circle' where we live. Most of the inhabitants found this a pity and I got regular requests to come and teach Dutch."
Memorising sentences
Kelly started to distribute homemade flyers and quite quickly she found herself five interested people. The interest was so big, that at present three classes have formed. ,,My style of teaching is very old fashioned. With me they have to memorise sentences, complete with midterm exams and a sticker – this is a little joke of course. After class, the Dutch sausage, cheese and bitter balls are put out on the table. What I teach my students, they want to practice in real life. Now they have heard what Leeuwarden is planning as 'Cultural Capital of Europe', they are most anxious to travel to Friesland. I'm studying the highlights at the moment to show them 'my' Leeuwarden."