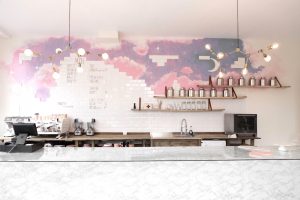 Elin Dikker, one of the baristas who works at Leeuwarden's newest Instagram spot, gives insights into the café, it's connection to Novelle, the idea behind it and the secrets that make it so very special.
By: Marisa Greiner
In 2018, Leeuwarden's first 'Instagram restaurant', Novelle, had its grand opening. The large variety of different lunch and dinner options offers something for everyone. It's extravagant interior and attractive and delicious plates make the restaurant to the perfect Instagram spot and enabled the owner to stand out in Leeuwarden's dining scene.
Orientated on the growing opportunities coming from social media, the idea to open yet again another Instagram spot was born.
Healthy, organic and eco-friendly options
Influenced by the increasing need for sustainability, Leeuwarden's newest café Moon" was opened in March this year. Once again, the owner manages to astonish with a beautiful interior, delicious and attractive plates and a trendy and cozy environment that invites everyone to stop by. Elin explains that the aim behind Moon was to "serve healthy, organic and eco-friendly breakfast and lunch options".
Next to their delicious and freshly brewed coffee, one of their signature drinks are their alternative lattes, from Beetroot, Turmeric, Blue Sapphire, Matcha, Chai to Lucky Charm, Moon truly manages to stand out. "Each drink can be ordered dairy free without any extra charges and many dishes are sugar-free or vegan," Elin continues.
Secret menu
One of the newest additions on their 'secret menu' and a personal favorite of Elin, is Moon's high tea. Customers can choose between a selection of different lunch and breakfast options, freshly baked pastries and a small variety of signature drinks. Although the café offers a variety of different extraordinary drinks and dishes, Elin's go-to-drink is still a good old espresso, "It's really hard to find good coffee and ours truly stands out! It's the first thing I need in the morning!".
Sustainable products
While the look and feel of their products are almost as important as the taste, Elin also points out Moon's focus on sustainability that shouldn't be forgotten either. Coffee cups and straws are made out of recycled paper and plastic cups for smoothies are used from degradable raw material. The barista explains that "especially within today's society the production and usage of eco-friendly and sustainable products are more and more important".
Moon wants to encourage their customers to make better and healthier choices, to be more aware of "not only their own health but also to support sustainable and organic products". Whether it is to catch up with friends, to study, to work or to simply enjoy a cup of coffee or freshly baked treat, Moon has a healthy and organic option for everyone. Elin: "It's always delicious, always beautifully garnished and always 'Instagram worthy'"