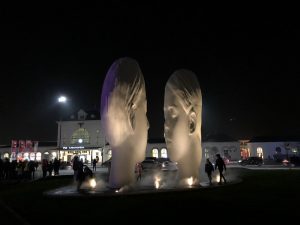 Leeuwarden is a located in the northeast of the Netherlands in the Dutch province called Friesland.  This article aims to give interested following exchange students some useful tips about Leeuwarden and the Netherlands in general, but also for people that are searching for a nice weekend trip.
By: Alexander Willermann & Raquel De Sousa – photo: YourPost editors
One reason why Leeuwarden is well known by people, besides the fact that it was the European Capital of Culture in 2018, is the NHL Stenden University of Applied Sciences. Next to its headquarters in Leeuwarden, the NHL Stenden is also based in four other cities in the Netherlands. Additionally, they offer programs in South Africa, Qatar, Thailand, and Indonesia. This university with multinational connections holds approximately 20,000 students in Leeuwarden. This university offers the city the possibility of developing a small student city, which makes possible the cultural, educational and business growth of the city.
Historic city
Not only for students a visit in this city can be worthy. First mentioned namely in the early 9thcentury Leeuwarden can look back on a long history. One witness of this long history is, for example, the Kanselarij, former residence of the court of Friesland and built in the 16thcentury. This building is currently partly used by NHL Stenden and other educations in the city. Another would be the Oldehove, this unfinished church tower is the famous Leeuwarden landmark. The building is in an inclined position, like the Pisa Tower, in Italy. During summer it is possible for tourists to climb the tower.
Some other hotspots for history interested visitors would be one of the six museums of Leeuwarden. But not only for those who want to look back in time Leeuwarden can offer something. One of the first things you will notice while walking through this city is the large amount of beautiful cafes. Many of them are next to the canals so when you enjoy your coffee you will get the impression with the beautiful city.
Student city
For the ones that are thinking about coming to Leeuwarden to study we have some things that we want to share with all of you. Coming to a new city can be scary and challenging but I swear that is the best decision that we can take, new adventures come new responsibilities. For us was super hard to choose a place to do Erasmus, we have so many options that get harder to decide the best place. When we decide a place to go the first thing that we all do is search online for all the information that we can find about all the subjects that are important to us, but something we only discover when we arrive. So that's why we want to help you with this subject because we wish that someone had informed me about some issues.
If you have a Visa card it's better for you to make a different one, because most of the supermarkets, bars, shops, and restaurants don't accept Visa, so the best option for you is to make a Revolute card or another card. If you want to embrace all the Netherlands experience and rent or buy a bike you need to learn the rules, because otherwise you are going to be in danger, in here the bikes are the queens of the streets. One rule that you need to know is that you can't drink alcohol on the street if the police get you drinking you need to pay a fine. In Leeuwarden the whole community can speak English, so don't worry is really easy to communicate with all of them.
The best way to travel inside the Netherlands is by train, the best website for you to buy cheap and good tickets is NS Trains ( https://www.ns.nl/en ), on this website you will find a lot of offers and discounts, it's the best deal for all the students.
Noardwand
If you are not used to having windy days in your hometown, be prepared because the city in the winter is a little bit windy, so bring your comfy clothes, you will need it. One last tip for all those who are looking for some adrenaline kicks: Visit the Noardwand. This is a new and modern climbing center in Leeuwarden and right next to the campus of the NHL Stenden University. There you will be able to show your best in eleven different climbing challenges.
So, for the next time you are looking for a destination to embrace the friseland espirit consider Leeuwarden!