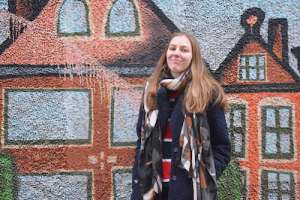 An interview with Creative Business student Renée.
By: Leonie Lange
One of the 76 bachelor studies is the study of Creative Business. It is available at the NHL Stenden in Leeuwarden and finds itself to be quite popular. It is a very broad study, as it focuses on the students learning a lot in the general field of media with an emphasis on media management. Those who study Creative Business, or CB for short, will be able to choose from a variety of media related careers after graduating. It is available as a four-year study and a fast track three-year study.
Renée is a first year Creative Business student, and she has agreed to an interview about her studies.
How did you find out about the CB study?
,,Initially I was accepted into Business Innovation in Amsterdam, but the city was not attractive enough for me and a bit too far off. Sadly, there aren't really any equivalent studies in the north here, so I started looking at media and marketing studies instead. Let me tell you that there are only so many options. After an extensive google research about CB and NHL Stenden, I decided to make the big move to Leeuwarden."
Do you like the study?
,,Yes! CB has a unique setting and approach which I had not encountered in my previous studies. It is freer, and it suits me a lot better than seemingly endless school days filled with nothing but lectures and seminars."
If you could turn back time would you decide on this study again?
,,If I could turn back time I would probably have applied for the short track of this study, because 4 years is so long! I would much rather get to work right now, but I have three more years to go."
How do you like studying in Leeuwarden?
,,You might imagine me as a grandma now, but I do love how relaxed it can be here. Coming from a busy city like Groningen the comparison seems huge. I do not miss the drama, or the shitty student houses."
Do you have any advice for people considering to study CB?
,,CB is a study where you can do a lot from home. For me it is really nice that I can still have a part-time job besides my studies."
Thank you for the interview!
NHL Stenden is one of the Universities of Applied Sciences that can be found in Leeuwarden. It is popular with national and international students alike. There is no doubt that it contributes to the liveliness of the city. The university describes itself as a multi-campus institution with several locations all over the Netherlands as well as Qatar, Indonesia, Thailand and South Africa. NHL Stenden has over 24000 students all over the world, it offers 76 bachelor's degrees and 20 master's degrees.