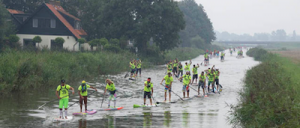 For all the foreign visitors in 2018, of course Leeuwarden has a lot to offer, but THERE's MORE! Leeuwarden is the capital of a province called Friesland and a lot of things do happen in region. The province is famous for their eleven cities ice skating tour, which is unfortunately not held that often (Damn you global warming). But for tourists there are alternatives!
By: Robbin Oort – photo: Jobe City Sup
A great idea to find this out is to accomplish the eleven cities tour. This idea came from an ice skating challenge that is legendary in the Netherlands and the ice skating sport itself. Since the weather conditions do not allow us to hold this tour every year, there are a lot of replacing tours around the eleven cities of Friesland, with an uncountable amount of cute villages you will pass by on the road.
An example of this tour would be the cycling tour of Nederland Fietsland: http://www.nederlandfietsland.nl/knooppuntroutes/elfstedenfietsroute.
Just like your visit probably does, the tour starts in the city centre of Leeuwarden. From there you will visit the cities of Sneek, IJlst, Sloten, Stavoren, Hindeloopen, Workum, Bolsward, Harlingen, Franeker and Dokkum. After this the tour leads back to Leeuwarden.
Possible other ways to cover this 200 kilometre tour is to go hiking, skating, by scooter, by boat, canoe or supping on a surfboard (Picture). All these different ways are an indication of how popular the phenomenon is.
Beautiful landscapes
These cities all have their own respective stories, loads of beautiful landscapes between them and a huge amount of cultural sites to visit, as well as vintage Frisian city centres that are always lively. If you have visited Amsterdam, some aspects of certain cities might seem familiar, since most of them date back to the same era. It's the differences in culture and landscape that make Friesland unique, inspiring and worthy of your visit.
Finish
Back in Leeuwarden you will be able to pass the 'finish' and get a proof of completion of the tour, but most important you will see and know a lot more about the region. This region has a lot more to
offer culture wise outside of Leeuwarden. Hope you will enjoy your trip over here and if you are lucky (which we all hope), you might even be able to complete the tour on ice skates! (or at least try to) See you in 2018!