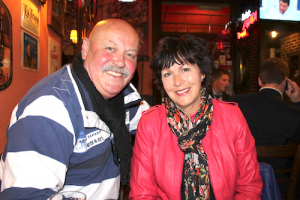 Piet Prins and Aukje Mulder are a married couple of experienced journalists and nowadays they are the editors-in-chief of YourPost. They are volunteering for the work and they make me realise nothing else matters when you love what you are doing. I had the chance to interview them at the Blokhuispoort. When they arrive, they are as nice as the last and only time I met them and after a few minutes we start the interview.
By: Maria Fernández
What made you decide start working for YourPost?
We were asked by the manager of the Leeuwarden Capital of Culture 2018.
The editor chief before us got a job where he got paid and had to leave YourPost.
They admit in the first meeting they were invited to they were not enthusiastic about it, they weren't convinced because everything seemed vague. Even so, they wanted to give it a try and went to a second meeting were they decided to go for it.
For how long have you been working here?
We've been working for YourPost since January this year. You could also say we started at the end of last year.
What do you know about the creation and beginning of YourPost?
It was created approximately one year ago. At the start it was from University for student to practise writing articles and learn which the process was for it but then they also though it would be useful for publicising Leeuwarden Capital of Culture 2018.
How would you define your position in the organisation?
We are the editors in chief. We share the job, we both do the same.
They explain me that at the moment Aukje is working more for it. People send the articles and contents to her and she gives them feedback and Piet is presenting the meetings.
"I also say something" he adds as they both laugh.
They also add that their mission is that everyone gets to know about YourPost.
What did you do before working at YourPost?
Aukje: I started working full time when I was 19 years old in a daily newspaper (Leeuwarder Courant) I worked there until I was 36. I worked in a news desk, first writing about anything but then I focused in health projects. I would write about baby's or old people's health, different diseases, I went to hospitals and talked to doctors or to ill people.
I had a baby when I was 36 years old, then I started working freelance so I wrote in many different magazines, mainly related with health. I also got a contract to hand over 2 main stories a month for a big newspaper. Then I was editor in chief in a national magazine for first aid. They covered many subjects related to it.  I also really like to take pictures.
I now take jobs as a volunteer.
Piet: I first worked in an office. At that time military was compulsory. I was a Sargent, there was a union to solve problems, people talked to them and they were powerful to make decisions. I was writing for their magazine. When I got out of the army I went to a weekly paper here in Friesland.
I also was editor in chief in a company that worked with television and radio.
I started working then in another daily newspaper: Leeuwarder Courant, where I worked 40 years until I retired.
At first it was strange because I stayed all the time with my wife and we were not used to it.
To explain what he's currently doing Aukje adds: People call him saying: Please can you do some volunteer work for us?, he has many contacts since because of what he's been doing, lots of people know him here in the city, so now people call to ask him to help them with volunteer work.
Could you please describe a normal day for you at work?
Piet: Sometimes I'm being asked to write a book about different things in Leeuwarden. Last book was in June about a sculpture of a cow in the city. I talked with the son and the daughter of the sculptor for it.
When an author writes a book, I sometimes have a look at it. I comment it, make notes and try to give them feedback in order to improve it. I work on the historical centre as well. I do interviews with old football players, the oldest one is 89 and it's so good to see how he still remembers everything. I'm a guide in the theatre of the city too, it's the 4th biggest theatre in Holland. I show everything behind the scenes, I make a tour through it. I also guide people in the Cambuur Stadion, I talk about the history of the SC Cambuur Leeuwarden. So my day and what I do depends a lot on what I'm doing at that moment.
Aukje: I sometimes write too. I wrote a book about Mata Hari. She was a dancer and a spy, she is famous here. There will be an exposition here in October at the Frisian museum. Now I process the YourPost articles they send me, I correct them with a red pen, and give the green light to publish them.
I also sometimes write articles. We'll post now an article about a girl from Leeuwarden. She's a friend of our daughter, she met a boy from Canada, they fell in love and she moved there, she gives Dutch lessons there now and the people in the class want to travel now here to The Netherlands.
Which difficulties have you found on the way?
Piet: I think YourPost is quite small yet. We want to have 1 or 2 articles a day in the near future, maybe once a week at the beginning. I am retired, I didn't want to stop working. For the last 20/30 years I was the editing chief in a busy newspaper. So that would be a change we need to face.
Is YourPost financed in any way?
No, it's not. Everyone working for it is volunteering.
What do you like the most and the least about the job, the project?
What we enjoy the most is talking with people, specifically in YourPost we contact with young people. It's important to let people know and show them this area and the region. We are proud of it and as we said it's our country, our region, our city… our heart is here we are very proud about what we have here.
We both love to write, it's been our profession for more than 40 years. We love the area, our language, you could say the love for the project and the area brought us here.
While the answer to the first question came up very easily and quickly there's a short silence while they think about what they like the least about the job.
It's not that we don't like it but we need to get used to the fact that in our job we've always had deadlines, it's been a dynamic job, we always needed things finished at a specific hour and of course it had to be well done. It's been very stressful, also in the television and radio environment. Now everything goes slower, we need to wait longer for everything. We need to change because we are not there anymore, maybe that's the most difficult thing about the current situation.
How has it gone so far, working with your husband-wife?
They tell me they find the question interesting because it's new for them. In the area, different neighbourhoods have different magazines, they worked together in one of these, and one can tell they have a nice memory of that period, when they met. There were around 7 people working in that magazine, Piet was chief there and Aukje did journalism.
They've been married for 30 years and now it's the first time they properly work together at the same level, and they are liking it so far. Anyhow, they have always shared their content to given each other feedback and advice in order to improve what they are doing.
What is something you like to do in your free time that may not be necessary related to journalism?
Aukje: Travel, walking, reading. Also Netflix films.
Piet: Well… I also like Berenburg.
They both laugh saying it is quite true and they explain me right away they are talking about a Frisian beverage.
What was the biggest risk you ever took?
Piet: At the beginning I liked it because everyone does it but then I was addicted to it, that's what smoking does. Twenty five years ago I had a first heart-attack and then I had another one 12 years ago.
Aukje: I got divorced of my first husband when I met Piet working in the magazine. None of us had children so that made it all easier but even though it's a risk to take because you never know how it's going to turn out.
We get to the end of the interview, after around an hour and a half, that has passed surprisingly quickly, we say goodbye knowing we'll meet again next morning in the YourPost meeting. At some point we even talk about their holidays, they explain me maybe that's where their English comes from, spending a month almost every year in Turkey, they practise it with all the people they know and meet there. They've been very open talking about everything and they tell me, as experienced journalist they are, that's how they like the people they interview to be like.