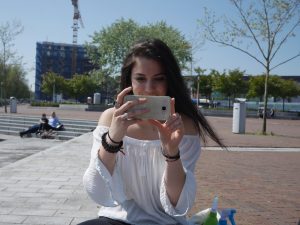 My name is Kristina Bogoeva and I am 21. I come from Bulgaria and this is my third year studying in Leeuwarden. I went for a very exciting programme, connected to Media, and currently I am doing a practical minor called Art'n'Sound at NHL Hogeschool.
I am very fond of the Dutch culture and the lifestyle here. I believe it suits me and I feel like I have the freedom to express myself and be the person that I want to be without judgement. Leeuwarden is smaller than my hometown but it has been extremely beneficial to my growth as a person. I learned how to take care of myself, how to be more open-mined and how to see things differently. I enjoy walking around its streets, with my headphones on, and just immersing myself in the music and its beautiful landscapes.
YourPost is a project that I started recently with the purpose to stay more engaged and to trigger my creativity. I have always enjoyed writing and I decided to take the opportunity to practice it more. I see it as a stimulating outlet for the thoughts that go through my head on a daily basis.
YourPost is a press office for civil journalism. Volunteers, students and professionals together tell stories about Leeuwarden and Fryslân and the people who live there. With the aim of showing the special character of the region. This in the run-up to Leeuwarden-Fryslân 2018. Who forms YourPost's DNA?