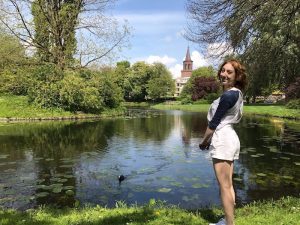 Hey everyone! Here I am. My name is Ksenia and I am 20 years old girl, who was raised in a beautiful and peaceful country – Belarus. My native language is Russian, but I am fluent in English as well. A few years ago I decided to study Media, and my choice fell on Leeuwarden. And that is how everything began – my interests in different cultures, travelling and meeting people from all over the world.
Personally, I enjoy the nature and beauty of the city. When I have free time, I take a blanket, any book, a piece of bread, and then head to my favorite place in Leeuwarden – Westerpark. This is my special place. Only here I can be completely relaxed and forget about every day life routine. I also like feeding ducks that come to me every time I visit the park. These adorable animals make me feel better when I spend some time with them.
Why YourPost? It is easy: I love writing and sharing things that give me inspiration. I hope that my stories will inspire the readers as well.
YourPost is a press office for civil journalism. Volunteers, students and professionals together tell stories about Leeuwarden and Fryslân and the people who live there. With the aim of showing the special character of the region. This in the run-up to Leeuwarden-Fryslân 2018. Who forms YourPost's DNA?