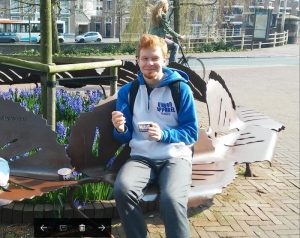 Hi! My name is Eimantas; I am a 24-year-old male. I came here from a small country Lithuania and even smaller town Ariogala. Why and how did I get here? A few years ago a took a decision to study Media and Entertainment Management in Leeuwarden.
I was looking for a university with diverse and international atmosphere, and Stenden caught my eye. When I first arrived here, I did not know much about the city or its inner life. However, it feels like it worked out very well because from that day onwards Leeuwarden never ceases to amaze me.
In my free time, I like to take my bike and travel around the city and its surrounding areas. The thing I have discovered about Leeuwarden is that it is so 'gezellig'. The city is not too large and not too small. Therefore, everything here seems to be just right. Particularly, I enjoy taking my girlfriend to the city centre for an occasional 'kapsalon' or a plate of 'bitterballen'. After a good snack, you can just sit there and chill out for hours, and enjoy the view.
Why YourPost? Everyone has a story to tell. But not everyone has a chance to be heard. YourPost gives an opportunity to share these stories with the world. After all, sharing is caring.
YourPost is a press office for civil journalism. Volunteers, students and professionals together tell stories about Leeuwarden and Fryslân and the people who live there. With the aim of showing the special character of the region. This in the run-up to Leeuwarden-Fryslân 2018. Who forms YourPost's DNA?