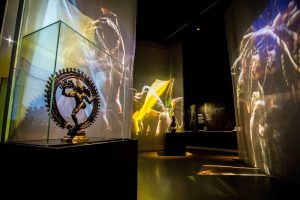 LEEUWARDEN – The exhibition Mata Hari – the Myth and the Maiden – at Fries Museum in Leeuwarden tells the story of Margaretha Zelle alias Mata Hari alias agent H21. The exhibition in this nature will last until 2nd April 2018.
By: Rica Kenning – photos: Ruben van Vliet, officially for Fries Museum
When entering the exhibition, you enter dark rooms with only spotlights on the exhibits. Already the first hall makes you take a deep breath since the first exhibit already tells you what you will expect when diving into the life of Margaretha Zelle.
Life before Mata Hari
Leeuwarden, the 19th century. Margaretha Zelle was born as the oldest child of a wealthy hatter in 1876, she lived a protected childhood back in Leeuwarden until the day her parents got divorced. She went to an uncle who sent her to a kindergarden teacher school, but Margaretha had to leave after it became public that she and the director had an affair. At the age of 19, she got married to Rudolph "John" McLeod, an officer from Dutch Indonesia who searched for a wife via a newspaper announcement.
The marriage
They went to Dutch Indonesia and it turned out that the marriage was not rosy at all; John was bad-tempered, unfaithful and hated Margaretha's flirty behavior. She gave birth to a son and soon after to a daughter. The son died at the age of two, which lead later to a divorce of the two. This early life of Margaretha Zelle McLeod is told in halls four and five with exhibits being available for the public for the first time.
Life as Mata Hari
Soon after Margaretha went to Paris, Mata Hari raised. In hall 6 everything is about the dancer and courtesan Mata Hari aka Margaretha Zelle, as she became a famous dancer who loved a life of luxury mainly paid by her lovers. For that life, she recreated stories of her early life. During her glorious times, she started making scrapbooks of her journeys through Europe with newspaper articles and photos, which were reprinted to show them to visitors. Further, the exhibition shows projections on her dance style on big curtains falling from the ceiling.
Agent H21
When going further, the visitor gets insights in her life after the World War I broke out. Performing became difficult so she completely was dependent on her lovers' money. As she struggles more and more financially, she accepted to be a spy for the Germans but only took the money as a revenge for stealing her belongings. To reveal that Mata Hari spies for the German as agent H21, the French secret service appointed her as an agent to set her a trap. After arresting her for being a double agent, the interrogations revealed that she accepted money from Germany but never gave information to them. This was evidence enough to execute her. In 1917 a firing squad executed her in Vincennes.