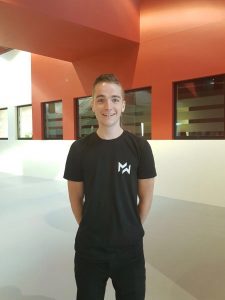 ,,The majority of clothing brands do not produce clothes on an ethical basis", says Luuk van Schagen, ,, as employers specifically in Asia are getting paid way too less. However, wages are not the only problem. Garment factories work with many chemicals in order to colour the clothing. Those chemicals are not only harmful to the people but also to the environment".
By: Lena Lötzer
Minimal Wear 
After much research and watching different documentaries about the clothing industry, Luuk van Schagen, a 22 year old Media and Entertainment Management student at Stenden University in Leeuwarden, decided together with two friends, Thomas List (23) and Remco Groot (23), to start a rather unique clothing brand. Minimal Wear is an ethical, ecological and fair brand, which works exclusively with certified suppliers to ensure that the clothing is produced in an environmentally and human friendly manner.
Nevertheless, ,,being an ethical brand is not the only thing that sets us apart", states Van Schagen. ,,We also found that there are only a few and smaller brands focusing on modern minimalistic designs". Hence, Minimal Wear is a brand selling clothes made of high quality organic cotton and water-based ink that are inspired by modern and minimalist art. Furthermore, as the clothes are produced with renewable energy, ,,you can be proud to wear our clothes", claims van Schagen.
Combining skills and co-creation
The three entrepreneurs do not aim at maximizing profits with Minimal Wear: ,,We did not start this brand in order to make money but to do something good in the world and gain experience in managing a business". Van Schagen and his friends with their different areas of knowledge ensure that various points of view are presented within the business. Luuk van Schagen, as the Media and Entertainment Management student, is responsible for the marketing and promotions of the brand, providing him with valuable professional know-how. For the three entrepreneurs, collaboration is central. This is why Minimal Wear also integrates crowdsourcing in their creative process. Consumers have the opportunity to choose and evaluate designs before they are produced and designers who want to collaborate with the brand can send in their blueprints.
Ambitious future plans
Even though van Schagen and his friends just launched their brand in January 2017, they are convinced that there is a future for ethical clothing in combination with a minimalist design. Once they receive greater funding they will invest in limited edition designs and therewith aim to become the biggest ethical clothing brand for their target audience, men and women from 16 to 28 years. Since Van Schagen is an electronic dance music producer himself, he currently addresses various EDM artists to support the brand. Van Schagen says that they ,,want to become a familiar clothing brand in the dance industry". Thus, they focus on endorsement of DJ's, music producers and event organizers.
Are you interested in Minimal Wear? Then visit the website here: https://minimalwear.nl