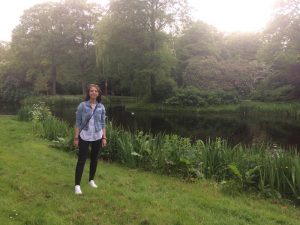 My name is Debora Dimitrova and most of my friends call me Debby. I am 22 years old Media and Entertainment student from Bulgaria. A few years ago I decided to study abroad and my first choice fell on Emmen where I studied International Business and Languages. Later, I decided to come in Leeuwarden to study Media.
For me Leeuwarden is something really special, as it is the place where I grew up as a person and met a lot of new people from different cultures and people with different interests. Beside this, I really love the atmosphere and the beauty of the city. All small and narrow streets remind me of Italy. In between some of the biggest streets in Leeuwarden there are alleys with historical names that describes the story of the city.  Moreover, I love nature and this is something that Leeuwarden offering me during my stay here. There are a lot of beautiful parks as Westerpark where I love taking walks with my friends.
In addition, I could say that during my volunteer job in YourPost I met amazing people with who I enjoy sharing my articles.
YourPost is a press office for civil journalism. Volunteers, students and professionals together tell stories about Leeuwarden and Fryslân and the people who live there. With the aim of showing the special character of the region. This in the run-up to Leeuwarden-Fryslân 2018. Who forms YourPost's DNA?