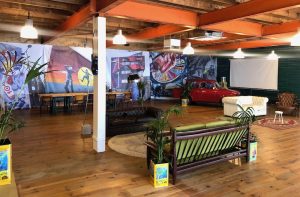 The creative working space Nummer 39 is Leeuwarden's newest location for all the creatives and entrepreneurs out there. To receive an insight behind the idea and creation of it, I interviewed Peter Reen, one of the founders of the art organization Writer's Block and co-creator of Nummer 39. In the past Reen had been involved and initiated a number of art and music events in Leeuwarden and for quite a while now he had played a significant role in the city's cultural and artistic scene.
By: Marisa Geiner
Nummer 39 started out as an alternative office for Writer's Block. Together with his business partner Serge Hollander, Reen explained that he had the idea to "create a workplace that sparks creativity and innovation and gives people the freedom to work independently". It can be described as a "non-commercial working environment" that enables anyone, who's interested, to either work alone or as a team, to plan meetings or to host events. The location is multifunctional and can easily be transformed and used for several occasions. From film screenings to children's theater, there are a variety of events coming up the next months.
Writer's Block is a local organization that started out in 2018. According to Keen, the initial thought behind Writer's Block was to create big murals in the city of Leeuwarden. Today, they also organise a number of events, including 'Writer's Block Mural Jam', an annual festival and the biggest celebration of graffiti art in the Northern Netherlands which is going to take place on July 12-14th this year. The event first took place in 2018, as an event for the cultural capital.
Besides that, Writer's Block also connects graffiti artists to organizations and vice versa, creates and supervises commissioned work and hosts a small gallery at their office.
'Strippenkaart' & 'designated desks'
While the main purpose of the location still focuses on Writer's Block themselves, Keen points out that the location also combines characteristics of an office, a café, a living room and an art gallery. Each piece of furniture is vintage and up for sale. Users are free to choose between the purchase of a 'strippenkaart' or to rent a fixed office desk, also called 'designated desks' Instead of monthly payments, with the 'strippenkaart' users are able to purchase a number of times they can work at 'Nummer 39', this concept enables them to decide when and how often they want to work. The 'designated desks', on the other hand, are the ideal solution for anyone who is looking for a fixed working space or 'office' and can be rented per month.
The cozy and creative working environment is the perfect place for all the creatives out there. So, if you think this sounds interesting, feel free to try it out. Anyone is welcome!