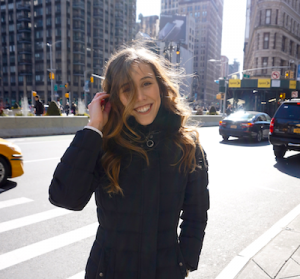 What is DNA? There are different ways to define DNA. Scientifically speaking DNA is short for deoxyribonucleic acid, a molecule that contains the genetic information of the entire organism. It can be found in each cell; it is the ultimate "data base". But what does that tell us? And does our DNA define what kind of person we become?
Sam Kean ones said "Genes are like the story and DNA is the language that the story is written in."
Today I want to talk about my DNA, don't worry there won't be any more scientific definitions. I want to talk about who I really am. To really understand me and the person I became or I want to become, there are a number of background facts I want to share with you first.
I am Marisa Greiner, I'm 22 years old and I grew up in Darmstadt, Germany. I'm half Italian, half German and I was raised in a strong, loud and crazy family. From an early age on I loved to talk, whether it was to my family, my friends or random strangers. I was never shy when it came to on-stage performances, talking in front of people or anything that involves a microphone or camera.
While I was never blessed with any obvious talents as singing, acting or dancing (believe me you really don't want to hear me sing), I would consider myself as a talented talker (if that is even a thing). During high school I interned at a German TV Broadcaster and from that moment on I knew I want to become a TV host or reporter.
During my year abroad, where I worked as an au pair in Chicago, this wish grew even stronger. And when one of my friends, whom I met during traveling, told me about NHL Stenden and Creative Business (back then it was still called "Media and Entertainment Management"), I came one step closer to my dream.
As soon as I came back to Germany, I decided to go to Leeuwarden to visit the University. Not only did I fall in love with the study program itself, I was also amazed by the people and the warm and loving welcome the city gave me. I can truly say that over the past 2 ½ years Leeuwarden has become my second home. Studying here in the city helped me to grow as person, to guide me on my way and to show me where and who I want to be in the future.
While I'm almost at the end of my time, I can definitely say that the city never disappointed me. From my work as head of the design department of my student council (Stuco CB), my volunteering work or the time I spend with my friends, my life in Leeuwarden made me to the person I am today. Someone who is really ambitious, independent and overly excited for the future. I know where I want to go, and I'm determined to reach my goal.
Although I'm sad that I have to leave Leeuwarden this summer, I'm also excited about everything that is coming. To finish my third year, I decided to go to Bali to do the minors "Mindful Leadership" and "Entrepreneurship in Action". While I've never been to Asia before, I'm both excited and curious about the new culture and the new life I'm going to have.
After my time abroad, I'll start my Internship. Even though I already started with the application procedure, I don't know where exactly I'm going to end up yet. But I'm hoping to get the chance to intern at a TV or broadcasting show. In the future, I'd love to end up working as a TV or Radio host eventually. And although I'm aware that my dreams are big, I'm even more determined to reach them. As cheesy as this might sound, I truly believe that if you work hard enough and you really believe in yourself, anything is possible.