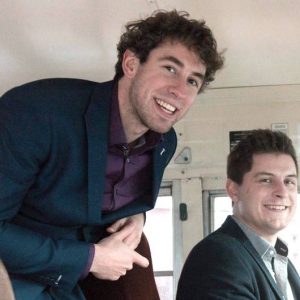 "Everybody needs somebody as a role model. There are so many youngsters that are searching for their place in society but do not have the right tools to achieve it or a person showing them how to do it", say Gysbert Bergsma and Guydolph Dijkstra, the founders of Stichting VerbindMij. The 26 and 27-year- old entrepreneurs, and Social Work and Services graduates from NHL in Leeuwarden focus on the empowerment of young people by connecting them with powerful activities and role models in society.
By: Lena Lötzer
Bergsma and Dijkstra, who met in their 3rd year at University and completed their internship at MentorProgramma Friesland, recognized that many young people have learning questions and could use a mentor to support them. They themselves experienced coping with a stigma and could have used guidance during different stages in their lives. The MentorProgramma Friesland already supported students. However, young people who did not work or go to school could not get a mentor. Bergsma and Dijkstra wanted to give these people the opportunity to develop through mentoring as well. In 2015, as the social support act changed and new volunteers were needed to engage in society, they founded their organization 'Stichting VerbindMij'.
Support
Bergsma and Dijkstra received support from MentorProgramma Friesland and Oranje Fonds to establish their business. They started with 11 local governors, who wanted to be mentors and expanded rapidly. Today, they have a large team of volunteers working with them. For Bergsma and Dijkstra, the mentors are at the heart of the team: "The mentors are most important as they unlock the mentee's potential." Mentors offer guidance and incentives individually suited to the mentees needs, which makes a significant contribution to the growth and success of the mentee. Mentees usually struggle with finding their place in society and by receiving support and encouragement from someone who has gone the same path through recognition and talent development they get new perspectives.
School's Cool
Next to Stichting VerbindMij, which focuses on unemployed youngsters at the ages of 15 to 30, Bergsma and Dijkstra also provide support for students in lower education through the project 'School's Cool'. 'School's Cool' is aimed at guiding children through the transition from primary education to secondary education by connecting voluntary mentors to students who need additional support. Mentors visit the students at home on a weekly basis and provide individual guidance. Thereby, the students develop and thrive in their own environment.
Future Vision
And what is Bergsma and Dijkstra's future vision for Stichting VerbindMij? "We want it to be something that all people know. If somebody needs a mentor they should feel confident to come to us". Next to that, the two entrepreneurs aim at expanding to different areas within the Netherlands and spreading their ideas, maybe even in Europe.
Are you interested to read more about Stichting VerbindMij? Then visit the website here:
http://www.stichtingverbindmij.nl