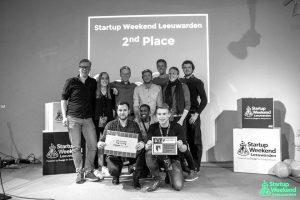 Front row on the left: Philipp Markhardt
LEEUWARDEN – In today's digital age more and more children are struggling to read. They are bound to their smartphones, laptops, tablets and all these other electronic gadgets. Many of them even appear to have striking problems with reading. So how do we solve this problem? How do we motivate children to read again and how do we engage them into storytelling? Philipp Markhardt and his five* fellow students have set themselves the task to find a solution for this issue.
By: Lena Lötzer – photo: Jorn Jilesen
During numerous brainstorming sessions within the module 'Innovation and Leadership', the six International Business Management Students from Stenden Universitsy of Applied Science conceptualized a multisided platform named Story Farm, which offers a solution to this problem. Story Farm is a platform aimed at catching children's interest in reading through interactive storytelling. Short stories, comprising animations and videos, are supposed to excite children and make reading playful.
Writers
However, the platform is not only aimed at motivating children to read but also at encouraging (hobby) writers to share their stories, as the platform relies on a co-creational process. The basic concept of Story Farm entails the creation of a community, where (hobby) writers can share their stories, which will then be visualized, made interactive and accessible for the children and their parents.
With this elaborate concept in mind, the students entered the 'Startup Weekend Leeuwarden' in March 2017. During these three days, where event developers, creators, designers, marketers, product managers and start-up enthusiasts come together to share their ideas, build products, and launch start-ups, their team grew to a number of ten people. With the newly acquired team of professionals including two coders/programmers, one marketer, and one designer**, the students extended their concept and initiated Story Farm's website. After long days of hard work, they won second place, providing them with an office space at the Incubator and financial advice from ABN Amro.
Huge potential
This success gave Philipp and his team a motivational push as well as proof that Story Farm has a huge potential. The students are meeting regularly in order to push the concept forward. Their next big objective: the development of a prototype and the finalization of the website. Some of the team members are even aiming at doing their compulsory internship within their own company so that the project can really take off. And what is their ultimate goal for the future? A cooperation and endorsement with princess Laurentien Brinkhorst and 'Stichting Lezen en Schrijven' in order to motivate children to engage in reading and storytelling.
*(Patricia Peukert, Lennart Heitzhausen, Jagath Kumarasinghe, Kilian Kammler, Daniel Kaske)
**(Niels Visser, Jurjen Hoofstra, Sean Stellingwerff, Heleen Klopper)