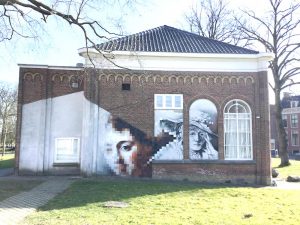 This work from Klaas Lageweg shows Saskia van Uylenburgh, the woman of the well-known baroque painter Rembrandt van Rijn. Saskia van Uylenburgh was born 400 years ago and was the daughter of the former mayor of Leeuwarden, that means she was part of a highly respected Frisian family. During her lifetimes having a relationship with an artist was not common because he was in a lower social position than her. Saskia was the inspiration and the muse of many of Rembrandt´s paintings.
By: Anna Greifeneder
Klaas Lageweg wanted to mix the realistic work of Rembrandt and modern techniques for his graffiti on the outside wall at the Historic Center Leeuwarden. The black& white part of the graffiti shows a reproduction of a drawing from Rembrandt. The coloured part is made out of many squares and shows also the face of Saskia van Uylenburgh. Only one eye is made in a realistic way. If you look normally at the face, it is full of "pixel", as it is often in a low- quality photo, but if you close the eyes a little while looking, the "pixel" are turning more into a painted portrait.
Klaas Lageweg is well known as a visual artist, he works worldwide and his exhibitions are also around the globe.