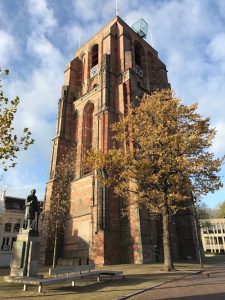 LEEUWARDEN – The Oldehove is an unfinished church tower located in the late medieval centre of Leeuwarden. It is one of the many attractions of the Frisian capital, which leans more than the tower of Pisa in Italy.
By: Ligia Mihai – picture: YourPost
The construction of the tower began in 1529, when the citizens of the city asked for a tower which was taller than the one in Groningen, called the Martinitoren. The people in charge of the Oldehove were Jacob van Aken and, later on after his death, Cornelis Frederiksz. The original design included the attachment of a church to the tower, thus replacing the old Saint Vitus Church. Unfortunately, this addition was never realised.
The leaning tower of Leeuwarden
The reason why the Oldehove is a leaning tower is the fact that, during construction, the building began to sink. As a measure to stop the abnormality, the builders desperately tried to insert "kinks" into the construction and build perpendicularly over the leaning base, however to no end, since the project was ended in 1523/1533. Unfortunately, the process was never resumed, and still to this day, the Oldehove, which was supposed to be 120m tall, is an unfinished tower.
Even though it was never used for a specific purpose, the tower was and still is a symbol of Leeuwarden. A well-known Dutch saying, "I feel rather homesick when I cannot see the Oldehove", shows how much the landmark has gained popularity over time.
Reopened for the public 
The famous leaning tower of Leeuwarden has been beautifully converted and redesigned over the past years. On June 1, 2011, the Oldehove was reopened for the public.  The renewed tower now includes an elevator, which goes up to the first floor, and presentations on the history of the tower and its surroundings, meant to inform both the tourists, the locals, and the many students who live in Leeuwarden. Guided tours are also available. Visitors can climb up the building and admire the city view from the terrace, which is one of the most beautiful sceneries of the Frisian capital.
If you want to see the beautiful Oldehove and visit the city, join us in Leeuwarden, Cultural Capital of Europe in 2018!