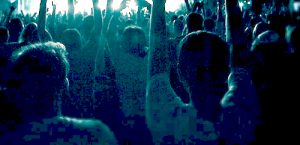 LEEUWARDEN – Leip! Festival is the number 1 attraction in Leeuwarden every September. The festival is aimed at welcoming new students to the city and offers various activities for more than a week, all throughout Leeuwarden. With various concerts, club offers, food trucks, games, activities and a cinema, Leip! attracts more and more people every year.
By: Ligia Mihai
The popularity of the festival has grown significantly over the past years, along with the number of students who choose Leeuwarden as their second home. Stenden University attracts more and more students every year, from all around the world. In addition to that, Leip! gathers people from the nearby cities, like Sneek, Heerenveen, Harlingen or Groningen. Here, they get the chance to explore the city, meet locals and people from the universities (Stenden, NHL, VHL) and celebrate the beginning of a new and amazing year.
Volunteers
Leip! is not only a festival for spectators, but also for hundreds of volunteers who join every year. This is an amazing chance to get to know lots of new people, have fun, learn new and useful things and lastly, contribute to the society and the popularity of Leeuwarden. During the festival, tourists are welcome to join and discover our wonderful city, which will be Cultural Capital of Europe in 2018.
The people of Leeuwarden are very involved in the festival. They promote the attractions of the city and encourage the new students to explore and get to know the culture of the city. The popular clubs of Leeuwarden, located in the city centre, have special offers daily, all throughout the festival. After parties take place every day and people of all ages have fun and dance together all night.
Leip! Festival 2016
This year, Leip! brought artists like Moti, Lady Bee, Jaz von D, Sandro Silva and Dirtcaps. In addition, the Oldehove square turned into an outdoor cinema, where hundreds of people joined to see "Now you see me". Moreover, the parks nearby hosted lots of fun and interesting activities, workshops and food trucks. These were made even more special by the nice and warm weather Leeuwarden enjoyed for two weeks.
Leip! is only one of the main attractions of Leeuwarden. If you want to discover more, join us in 2018 and get to know our city!