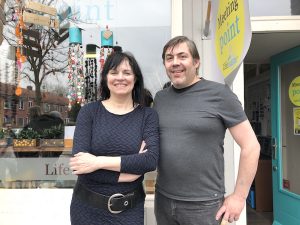 Spring is here, and for the organisation Meetingpoint Lifemaster it means that it is high time for the event Spring Guest, or Lentegasten, as it is called in Dutch. Thanks to a course, which I am currently taking in my school, I got the opportunity to visit the event and be a part of it. But who are they, the people behind the Meetingpoint? And what do they do?
By: Nadja Nordström
How it all began
Together with Erwin Rengers, Marjo Rengers is in charge. Together they are the owners of the Meetingpoint Lifemaster. Erwin works as a projectleader and Marjo works as a procesmanager. Marjo has worked as a teacher for 25 years with younger children in a school nearby. Besides from that, she has also studied creative therapy and has a master's degree from social work. Her partner, Erwin has an educational background from human resource. The couple took over the locals of the Meetingpoint and they were previously owned by the local school nearby in the area. ,,I do have a special relation to this area and I do know it well", Marjo said during an interview that was taken during the event.
The four seasons and the happenings
Four times a year, for every season an event is being held in the community of Heechterp-Schieringen in Leeuwarden with the focus on welcoming and bringing the neighbourhood together. Depending on season, the theme for the festivals varies. The activities for the Spring Guest were several workshops and later on, the day ended with bingo. Coming there as a guest, you truly feel welcome whilst you are surrounded by a warm feeling of belongingness, which is not like anything else. No matter who you are or your background, you truly become a part of some sort of a "family".
The meaning behind The Meetingpoint
Besides from the yearly four events, The Meetingpoint is open during the weekdays. They are focusing on social activation and combining that by using creative therapy on younger adults. The aim is to prepare them to get a job by letting them do volunteer work, so that they can get work experience. The Meetingpoint also offers several different day activities, which consist of meaningful and work-related activities in the local or around the neighbourhood. Once a month a pop-up restaurant is open for everyone and it is hosted by the organisation. What Marjo and Erwin are working with it is important for the neighbourhood. As Marjo herself describes it. ,,It is here where it happens".
Asking Marjo what the best thing with her job is, she replies with using a quote from American spiritual master and author Marianne Williamsson. ,,As we let our own light shine, we unconsciously give other people permission to do the same".