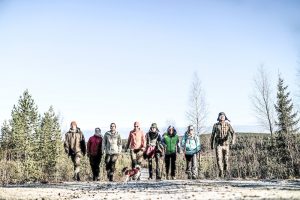 In the north of Sweden, in the region of Lapland, lives a group of people from the Netherlands. They moved here to come closer to nature and to escape their ordinary lives. ,,We think that if you live in a rougher or wilder area, the real necessities for living become clear", says Steven from Friesland.
By: Eric Blomqvist 
Feel like you don't fit in today's society? Steven originally from Sneek and previously living in Leeuwarden, had that feeling and decided to do something about it. Together with a group of people from the Netherlands they moved to Sweden to start up a project they call 'The way out'. The idea started because they were searching for a connection and another way to fill their lives. More adventure and less 'daily life'. ,,We chose Sweden because of the nature and all the free space," he says.
Escaping the stressful world
'The way out'  is about escaping the stressful world that you might need a break from, or not feel that you belong in. Especially helping young people who don't feel that they belong here or who just have a hard time. Steven and the rest of the crew think that they know what you need.
,,We think that if you live in a rougher or wilder area, the real necessities for living become clear," he explains. The focus for them is in adapting to an easier life, a life in the wild. They use tents to sleep in and they make sure to have a lot less possessions than you would have otherwise. ,,We create different activities like hiking, building, gold searching, canoeing and challenges in outdoor Lapland."
Moving up north
Recently 'The way out' team moved from being located in the southern part of Sweden to the north and the region of Lapland. Everyone who wants to join their experience and participate in their activities are free to do so. ,,If you want to apply, do it. We have openings for students who want to go on an adventure and like a new experience. It can be an internship, graduation project or just to gain experience. You can join us for shorter or longer periods. Also in vacations."
Projects for sponsors
If you chose to participate, it is for free, or you can chose to donate whatever you want. To make the economy go around they have projects for sponsors and partners. To do this they create media content. ,,We finance it that way, but we also make media content for our followers on social media to inspire them," says Steven. For all information, look at http://thewayout.eu