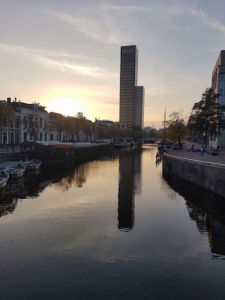 When I moved here one year ago, I immediately felt like home. Coming from a big city (Bucharest in Rumania), I was used to traffic, rush hours, busy squares and chaos. Instead of all these, I got to experience silence, fresh air, peace and the tranquillity of a small but beautiful city.
By: Ligia Mihai
Leeuwarden welcomes hundreds of students yearly as the city becomes their second home away from home. The beautiful Dutch architecture and the small, narrow streets which form labyrinths make any walk in the city enjoyable, while the small cafés serve as a cosy and comfortable relaxing locations. The canals which flow through the city remind its people of Amsterdam and are the perfect place for a boat ride during sunny days.
A variety of activities
Inspite of being a small city, Leeuwarden offers a variety of activities and amazing places to visit and enjoy. The two cinemas located in the centre are one of the top choices for a night out, while the many restaurants in the city serve delicious plates for any pretentious food lover. Museums and libraries welcome culture enthusiasts daily, where they can learn more about the Frisian culture and its traditions.
For the many students who live in Leeuwarden, bowling, billiard and other fun activities are the hotspot for fun nights out, with special prices created just or them. Also, a new and huge skating ring was recently open, where students are welcome every Wednesday with a special discount.
Beautiful parcs and a zoo
Lastly, the beautiful parks in and around the city serve as calming and relaxing breaks from the busy city life, where the walks become enjoyable even during the cold, rainy days. In addition, an Aqua Zoo is located just at the exit of the city. Polar bears, monkeys, kangaroos, flamingos, penguins and other amazing animals can be seen there. The zoo also gives its visitors the chance to feed and play with lemurs and kangaroos, which makes the experience even more enjoyable.
Second home
All in all, Leeuwarden has become my second home. I love the fact that a small city can offer me so much quiet and still manage to keep me active and outgoing. Since my time here is almost over, I can happily look back at my experience and say with confidence that I did the right choice coming here and that small cities offer plenty of things to do. Also, with so many students around, there is almost impossible not to have a good time in Leeuwarden.
Visit Leeuwarden, Cultural Capital of Europe in 2018!