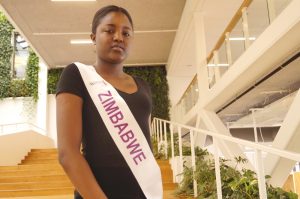 It's not a secret that Friesland houses some of the most beautiful women and successful models of The Netherlands. Not excluded are the two models who participate in Miss Supermodel Worldwide Africa (MSWAfrica), a national beauty pageant for women with an African background. The winner of MSWAfrica progresses to Miss Supermodel Worldwide, an international pageant in India where she will represent The Netherlands. The next model is Tariro Violet Sithole, a 19 year old Zimbabwean native who moved to Leeuwarden five months ago.
By: Valerie van den Berg
"I recently moved to The Netherlands to start my study at NHL Stenden in September. So far, my experience is quite amazing as I have met many people from all over Africa, Asia and Europe. I love the culture in Friesland and I am looking forward to learn more about the Frisian and Dutch identity. I like that Leeuwarden is a student city as it makes it easier for us to connect and get to know each other better. I study hospitality and I have a real love for different cultures. The combination of both makes me aware of how to address different kinds of people, which I think is a skill that could be applied anywhere.
"As I grew up, I always dreamed of becoming a model. I told myself that I would start focusing on this dream as soon as I started studying. Once I arrived in The Netherlands, I tried looking for modeling agencies and quickly found out that it wasn't easy. I changed my search to finding African pageants in The Netherlands and found Miss Supermodel Worldwide Africa. I remember seeing the page one weekend, and looking again the next week. I thought to myself that that there couldn't be a better starting point for me to get to know the modeling industry. I applied to the pageant and to my surprise the #MSWAfrica team responded and accepted me to become a finalist.
"I proudly represent a country that is known for having the Almighty Victoria Falls and is a part of the seven wonders of the world. I've learned that Zimbabwe is a country not many Dutch people know about. Now I have a platform that gives me the opportunity to teach people about my country and her beautiful culture.
"I stand for gender equality and try to put this message forward during my time as a contestant. My aim is to fight gender discrimination and improve the rights and opportunities provided to young girls and boys. I would like to empower young girls and teach them that anything they want in life can be possible.
"Competing for a crown and title is quite a difficult task, because it feels like you're competing in two competitions. The hardest part of being in a pageant isn't the competition with the other girls, it's the one within yourself where you're finding the right way to represent yourself and your country. I've mostly learned how to be patient and humble. Having a title is a huge responsibility as you become a role model. It takes more than physical beauty to be a true queen. Beauty can be defined in many different ways, but it takes a lot of dedication and passion to have the personality and attitude to define a winner. As the next Miss Supermodel Worldwide Africa, I would invest in community- and charity work. I think it is important to show society that our young generations are grateful and full of love. I would be able to show something deeper than beauty, being beauty with a purpose."
The finals of Miss Supermodel Worldwide 2019 will take place on February 23, 2019 at the World Fashion Centre in Amsterdam. Voting for Violet can be done on www.misssupermodelwwafrica.com/vote.