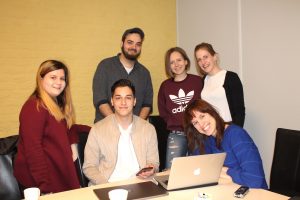 (sitting from left to right) Laura Apostol (Romania), Milen Elefterov (Bulgaria) and Nynke Laverman – (standing) Leo Wildhagen (Germany), Nadja Nordström (Sweden) and Anna Greifeneder (Austria).
A few YourPost editors participated this week in the new LF2018 project by singer Nynke Laverman. The young journalists, all international students of HCL Stenden, spoke a sentence in their own language.
By: Piet Prins – photo: Aukje Mulder
That sentence is: 'Nature. I really want to enjoy it, but I do not speak the language.'
If you want to know how this sounds in German, Spanish, Romanian, Austrian-German, Swedish, Polish and Bulgarian, then you should come to Laverman's film.
On 27 July 2018 'One of us', as the title reads, premieres. The film will be projected on the Oldehove for three months, every weekend, in the context of Lân Fan Taal. Afterwards it will be offered at several (international) film festivals.
Nynke Laverman is working on the special project together with her partner, the musician / composer Sytze Pruiksma and filmmaker Douwe Dijkstra, who is a member of the international video collective 33 1/3.