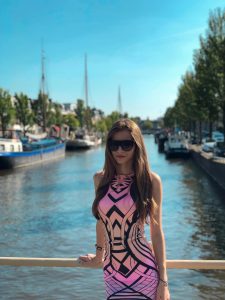 Hello! My name is Iva. I am 20 years old, and I am from Vidin, Bulgaria. It is a small north-western town near the Danube river, close to the borders with Romania and Serbia. It is famous for the breathtaking medieval fortress called 'Baba Vida'. I am a second-year student in the Creative Business course at NHL Stenden. In my spare time here, I love singing, watching movies, and going out in nature with friends.
What can I say for me and my DNA? I love Music! I have been singing and dancing from a young age. Thanks to the singing and guitar lessons, I was able to participate and perform in a lot of concerts in my hometown. Additionally, that was a great experience for my future carrier plans.
Furthermore, music is one of the reasons why I chose Creative Business. When I graduated from high school, I wanted to continue studying and doing something that I love. That is why, I carefully researched the university and asked around about the study, potential job opportunities in the creative industry. Moreover, a third-year minor called Music Management grabbed my attention, and I was drawn immediately to the study. Also, that is an interesting opportunity that will help me get insights into the music industry.
I choose to study in the Netherlands because I have always wanted to study abroad and explore different countries and cultures. Leeuwarden is a small town with friendly citizens and cozy places to relax and study. I met a lot of people from diverse cultural backgrounds. It is so fascinating to see how different cultures are so different but at the same time so similar. So far, my experience in Leeuwarden has been amazing. It is a great place to live, filled with beautiful nature and small canals. I chose this photo because it represents Leeuwarden well. On the photo behind me, you can see the beauty of Leeuwarden, green trees, and a big canal filled with a lot of boats.
I am joining YourPost as a part of the USP (Unique Study Point) project of my Creative Business studies. I am excited to write articles for YourPost, because that way, I will get the chance to meet new people and gain experience as a writer.