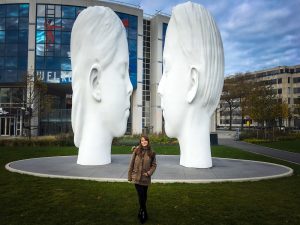 Hallo! My name is Tania, I am 20 years old and I come from Andalusia, in the South of Spain. I am in Leeuwarden doing my exchange programme for five months, until February. I am studying Communication in NHL Stenden, though in Spain I study Journalism.
Why did I choose Leeuwarden? Well, I must confess it was not my first option. I applied for Glasgow because all I wanted with my Erasmus experience was to improve my English. However, there was a problem with the agreement and I ended up here. I think it was my destiny. And I do not regret it. I am comfortable in Leeuwarden because it has the best of both worlds: a village and a city, so I can enjoy either of the two whenever I want.  Furthermore, I never get bored, because there are always lots of activities, festivals and special events going on in the city.
When asked about to choose one place that has a special meaning for me around the city, I did not hesitate: the two heads that are in front of the train station. They were the first thing I saw when I arrived in the city and the first thing that caught my attention here. Moreover, for me they represent both the beginnings and the endings: they are the first thing you see when arriving in Leeuwarden, but also the last one before you leave.