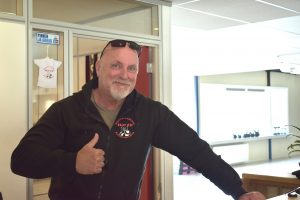 There is a gym in Leeuwarden which is not owned by big brands but by two people with a love for fitness. A gym where people go alone but end up drinking a protein shake or a cup of coffee together with each other. And while this place is really friendly and social it's main goal, of course, is to work out hard and stay fit. Welcome to Stay-Fit!

By: Gideon Oudshoorn
Introduction
Hans and Stephanie are the proud owners of their own gym called Stay-Fit. An old school gym located on the Archipelweg in Leeuwarden. Hans and Stephanie started the gym in 2016 after seeing big brands like Basic-Fit and Fit For Free take over. Both have decades of experience in fitness. Hans used to do bodybuild competitions and Stephanie used to own her own gym and has years of experience as a personal trainer. They were concerned about the lack of personal guidance and the commercialization of the sport and they saw on multiple occasions people getting injured because of not doing the exercise properly. So they started Stay-Fit with a clear vision.
The vision of Stay Fit
Stay-Fit is a gym in which Hans and Stephanie feel responsible, to a certain extent, for their clients. They help out as much as possible to educate people about fitness by helping people to perform the exercises in a responsible way. Besides that, they wanted to be more than just a place to work out. They wanted to create a gym where everyone feels welcome, where nobody is excluded and where having fun is just as important as working out. You are more than welcome to stay after your workout and have a chat with either Hans, Stephanie or anyone else who is sitting at their dining table. And even when you just feel like dropping by that is no problem. Coffee is served throughout the day.
Not your average high-end gym
The first thing you probably notice is that no, Stay-Fit isn't your wellness and spa gym with the highest tech machines and saunas and steam cabins. If that is what you are looking for then you should consider a different gym. Stay-Fit is practical and more important honest with its clients. The equipment works and is designed to do exercises properly in a responsible way. It's old school and that is unique about it. You perhaps don't always get what you want but you always get what you need.
What to expect
Throughout the years Stay-Fit started offering group classes and you can get personal advice as well. There are multiple group classes throughout the week that differ from boxing classes to circuit training. Stephanie also provides personal training. Where, again, honesty and responsibility is key. And while Hans is providing the guests with coffee and takes care of the business side of things you can always ask him to help you out. He would love to do so.
So if you are interested in an old school gym with a very friendly vibe and friendly people you should definitely check it out an have a talk. Just like Hans and Stephanie always say:" a fit body equals a fit mind".