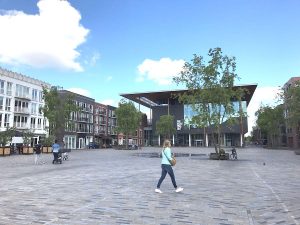 LEEUWARDEN – This is the place that you will not miss anyhow. Located in the city centre, surrounded by small cafeterias and restaurants, Zaailand square is one of the most visited places in Leeuwarden.
By: Ksenia Padaliakina
The square is surrounded by various restaurants, cafeterias, shops and Fries Museum – the museum of Frisian history and treasures. People usually call it Zaailand or Zaailand square, even though the real name is Wilheminaplein. Every day citizens of Leeuwarden at least pass by this place when they go to work, haste to the university or walk with their family and beloved pets. During the warm days there are a lot of people who like sitting at the cafeterias of Zaailand, enjoy coffee and the sun. Some of the citizens like going shopping in surroundings, some prefer to sit on the benches in a big company, talk, laugh and, sometimes, do some skateboarding.
Open market
The distinctive feature of the square is its utilization. Every Friday there is a huge open market with tremendous amount of food trucks and clothes tents. Here you can find everything – vegetables and fruits, healthy herbs for people with food sensitivity, delicious nuts, colourful bags and jackets, different types of cheese with all the tastes, unseen beauty flowers and many other things needed for your house and for yourself.
Entertainment
Besides the open markets on Fridays, the square is used for holding various events. Whenever the big space is needed – Zaailand is ready to help. It is a great place for having lots of people dancing, drinking beer and enjoying the music. For those who prefer to spend time quietly and usefully, there is a big shopping centre that has the same name as the square. There you can shop for household furniture, healthy supplies and food, and clothes.
Fries Museum
In addition to that, someone might be interested in a history of Friesland. In such occasion you can visit the country's largest Frisian provincial museum that surprises people different ages and gives them a better look on the art, culture and history of Friesland. Nowadays Zaailand is one of the most visited places of the city, where everyone is able to find how to entertain himself and enjoy the time.