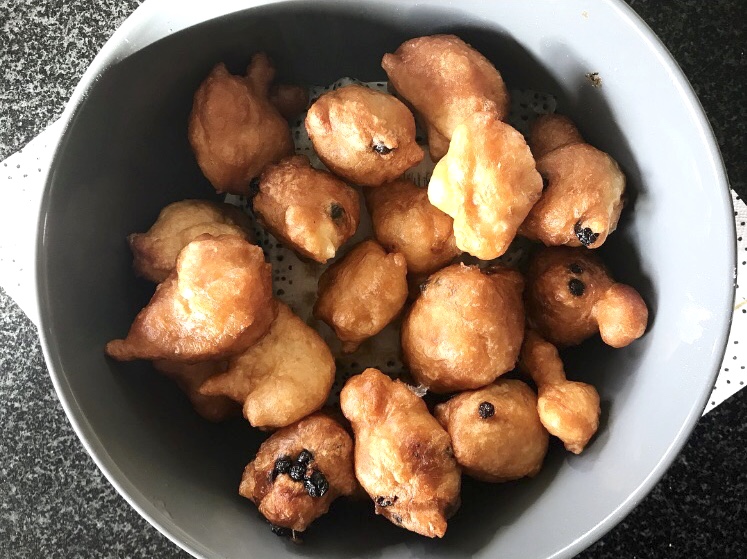 New Year's Eve is a time of different traditions in Fryslân and the Netherlands. For example, the last day of the year is the only day that the typically Dutch game 'sjoelen' is played, that the real Frisian people go 'carbidschieten' in the meadows and that we eat 'oliebollen'. As soon as midnight nears, we end the year with a drink while we watch the last seconds tick by on the clock on the television.  Of these typical Dutch and Frisian traditions, we are often not even aware. This is just how it is supposed to be and how we do it every time. But what is normal in other cultures?
By: Marijke Hoekstra
Dining in Romania
Laura Apostol and Eliza Dragan from Romania tell about their traditions around New Year's Eve. The preparations start early. Where do I go this year to celebrate it? To a restaurant, the club or stay at home. According to them, it doesn't really matter: ,,Everyone has the purpose to entertain you and to have fun". Often the evening begins at home and fancy dressed while having a large dinner. Laura's and Eliza's mothers will be in the kitchen for hours to make the best dishes. For example, a typical Romanian dish is made. It is called 'Sarmale' and it's a dish of cabbage leaves filled with meat. It is often eaten by Romanians during public holidays. Eliza's mother always makes a cake of eight layers high.
The next day
Laura and Eliza tell that they wear red underwear for good luck. When it's twelve o'clock they call family and friends, no matter where you are at that moment. Eliza:,,Last year my parent where at someone else's house, and even though we could actually see each other, we still called to wish a happy new year". At last, the day after is also very important. Together they eat the leftovers from the previous evening and spend the day together with family. Laura: ,,That's a must. Even if you celebrated New Year's with your friends, you still come back home the next and spend the day with your family''.
Countdown with grapes in Spain
The Spanish Martina Andrés and Tania Poyuelo Montes also have important traditions around New Year's Eve. For example, it's common to always spend it with your family. They are said that there is one thing all Spaniards do. The seconds before twelve o'clock will be counted down in front of the television. At the last twelve seconds, a sound is played at each second. On each of these seconds, they have to put a grape in their mouth. If you go on and succeed until the last second, it will assure that you get good luck in the next year. And just as Laura and Eliza, Martina and Tania also tell that they wear red underwear for good luck.
Chinese New Year in Taiwan
For Connie Kao from Taiwan is celebrating the new year a little bit different. She celebrates Chinese New Year, which will take place on the fourth of February 2019. Because a year isn't 365 days in for them, the new year will be celebrated on a different date every year. The new year will be celebrated for a whole week. On the first day they count down till twelve o'clock and afterwards they celebrate the new year for six or seven days.
The red envelope
For Connie is it also common to wear something red. In addition, they have the tradition with the red envelope: the gift parents give the children for the new year is a red envelope containing money. Celebrating the new year is a period spent with the hole family. In addition, she explains about the different appetizers that they eat. Connie: ,,The most important thing is food". For example, they eat the Chines Dumplings, which will assure good luck if you find one with a coin in it.