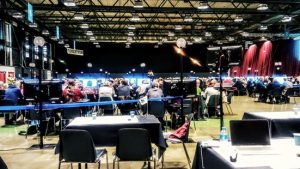 LEEUWARDEN – Frisian countryside is the most beautiful part of the Netherlands, with wonderful sceneries where archaic architecture meets modern influences. However, Frisian countryside is not only about beautiful architecture and splendid nature, but mostly about people. Many may ask how people can define a place. Well, for Friesland this is possible, as people are the ones who make this place unique.
By: Laura Apostol
The Frisian community cares about their towns and about the well-being of others, welcoming you with open arms. This loyalty to their towns and origins was proven this weekend, as on the 5th of November over 200 Frisian citizens gathered together at the Frisian Congress (Friese Dorpentop), where the most important aspects of the Frisian countryside were debated and discussed. The wonderful and exciting atmosphere led me to believe, as a foreigner in this province, that these people want to make a better change for their towns and want to involve themselves in this change. Therefore, the following interviews with people who attended the Frisian Congress (Friese Dorpentop) prove that Frisian community is bonded by one thought: to improve the province of Friesland. The interviews focus on the main problems in people's villages and towns and their future vision upon the Frisian countryside, especially upon their towns.
Interviews with attendees of the Frisian Congress:
What part of Friesland (town/village) are you from? 
Margot: Ter Idzard, a small town in Weststellingwerf, a farmers town.
Hennie: Rottervalle (Smallingerland).
Casper: Drachten.
Eline: Leeuwarden.
Berber: Scharnegoutum.
Marije: Heerenveen. It's a bigger city.
Why are you at the Friese Dorpentop?
Margot: I'm a volunteer and I wanted to be part of the action, see how everything is working.
Hennie: I'm involved in the organization.
Caper & Eline : We are students and we have a research program. This event is part of it.
Berber: I want to speak up about the aspects of Friesland, to help people making a change.
Marije: I'm a volunteer and my internship was with one of the people who organized this event. I wanted to get involved.
Which are the most prominent issues/themes in your village?
Margot: The population in the village is dominated by elderly people, rather than the young people. Also, transportation is a problem. It's a very small town.
Hennie: I wouldn't say there are a lot of problems; we are busy creating a multifunctional centre and are doing it with the help of cradle-to-cradle design (it protects and enriches ecosystems). There is also a lot of democracy from the bottom, up. That's why I think this is important; working together with the local government and the public to create things together.
We are doing it because we want it, as citizens. We want to create things in a certain way and our request was heard. It's not a problem, it is more of a challenge to create a way of working together. You make each other stronger by listening to all the opinions.
Casper: I think that people should come together, like during this event. This is organized, people are invited to come here, but it is not a usual thing for them.
Eline: I cannot recall any problems in the city, as I haven't been living here for a very long time.
Berber: It's becoming a better village, because they have lots of facilities now. They made a hospital and a school. It's starting to come together.
Marije: It's a big city; there aren't problems in the whole city, but there is a lot of criminality in the neighbourhoods. We have many criminals, but we use neighbourhood watch and a WhatsApp group. Therefore, if anything happens, we get messages from the police or the neighbourhood watch.
What's your vision on the future of the Frisian countryside, especially your village?
Margot: Most people in our town don't want anything to change. They live there because they like it or because they have their job there, but we have to sustain this change. People who are living here are mostly elderly people, so it is a bit difficult, but we are working to get there. I am part of a small group of people from the area in which we are discussing what we can do to change aspects of the town.
Hennie: What we want, is to make important changes: a circular use of products and listening to the people, what they actually want; they have knowledge about the real problems of the town.
Casper & Eline: Our vision is about keeping everything green, as it is now. So not to become a city where people don't care about nature, like Amsterdam. Green is good, the farmers are good – even though not all of us are farmers – but we like nature and we think we should keep that.
Berber: I'm studying European studies, so I really like policy. That's why I would like a better policy for the village, to attract more people, because they are starting to move to bigger cities.
Marije: I think we have to do it together, not only with the government and the province, but also people from the villages have to step in. We have to do it ourselves. The same has to happen in my city. We have to stick together and solve the problems.