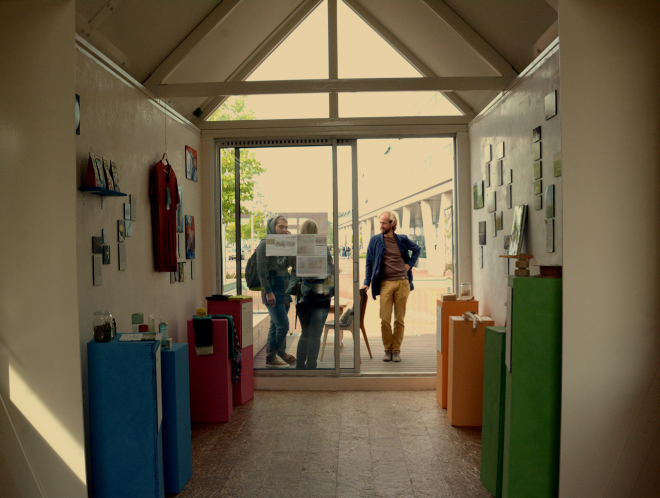 Floris Siekman (at the right side of the photo) in front of The Hemp House
LEEUWARDEN – Ladies and Gentlemen, hemp. What do we actually know about hemp? Apart from the obvious answer – it being used as a recreational substance – there is a lot more to this crop, than one might think. That is why a group of enthusiasts decided to work together and spread the appropriate message.
By: Alisa Jefimova
Floris Siekman is one of these enthusiasts and member of the Hemp Collective. He is currently overseeing The Hemp House, which is located between NHL and Stenden.  The Hemp Collective started working towards educating people about hemp roughly 2 years ago, and for now they have an exposition house, which travels through different locations.
The Hemp House
The house itself is built from sustainable and biodegradable materials, which by the end of the production cycle can be given back to nature. It has a high isolation value, due to the hemp inside the wall, which makes it pleasant to live in. Inside of the house one can find information and examples of various hemp applications, as well as publications, books, magazines and natural hemp products available for purchase. The reason why the house is now located next to two major universities in Leeuwarden is to see whether students are interested in the material and can adopt it for their projects.
This is a great example of how hemp can be industrialized and used for buildings. History also shows that hemp was widely used in different productions, as you can find traces of hemp in textile which dates back to around 8000 years B.C. Previously, it was hard to produce hemp with the low THC levels and a lot of laws banned the crop. Today, we have the technology to grow hemp on a global scale with an industrial purpose; for example fiber hemp, which could be used in the automotive industry.
Hemp as sustainable solution
We live in the time, in which we search for new bio-based, sustainable solutions and hemp can become one of them, if only people were more aware of it. This is a fast-growing, self-sustainable crop with no natural enemies and no need for hard fertilization. The most common uses of hemp are: clothes and textile, food(-supplements) and industrial building.
Hemp is more than just marijuana and you can be a part of the solution. If you have any questions about hemp and its application, feel free to come over to The Hemp House, at the square between Stenden and NHL, between 10:00 to 17:00 on Tuesdays, Wednesdays and Thursdays. Otherwise, you can reach Floris and ask questions directly using the following e-mail: floris.siekman@hempcollective.nl or browse the information at your own pace by visiting www.hempcollective.nl.