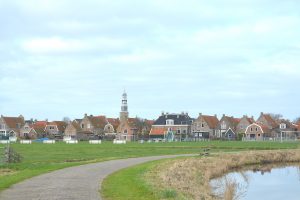 HINDELOOPEN – Friesland is a region in the north of the Netherlands that has a lot of places to discover. This region and its capital, Leeuwarden, are going to be the European Capital of Culture in 2018.
By: Alicia de la Casa
Friesland is different and all the region has a lot of beautiful towns. For that reason we are going to discover Hindeloopen, a town 45 minutes by train from Leeuwarden where you can spend the day. For that reason I would like to give 8 reasons why Hindeloopen is a must-see.
The arrival: When you take off the train it looks like you are in the middle of nowhere, but if you look to your left you can see a road and in the end some typical nice houses. You have to walk around 15 minutes to arrive to the town but the walk is nice, next to a canal and seen how the center is becoming bigger and closer.
Views: The smalls streets, the houses and, in general, the architecture, are cute. But this town does not have only canals, it is on the coast so you can enjoy the sea as well. It looks like disappear but if you want to see it you should "climb" a small hill and you can see it. There, the water and the sky are not different, you feel so small in an incredible place.
Canals: for not Dutch people, the incredible atmosphere that the canals create is wonderful. You feel in a fairy book. There are also a lot of bridges that let you cross the water.
People: According the morning is running you can see people in the street. Tourist, people who live there… but in any way, they are going to say you "hoi morgen" with a big smile, feeling that they are friendly and nice. For sure, if you need to ask something they are going to help you without any problem.
Food: After a walk during the morning and been speaking with some local people they will advise you to go for some nice places to have lunch. Pancakes are so typical and you can eat it even sweet or salt, having a nice jam, cheese, honey or apple pannenkoeken.
Museum: It is a town for walk and enjoy about the views but if you want to see some culture you have it too. You can go to two different museums: Museum Hindeloopen to discover the glory days of Hindeloopen during the Golden Age in the 18th century. Also you can see several chairs and tables with a particular way of painting. Since 1696 people in Hindeloopen painted all furniture in those special colors and flowers. Until now, artist can make this art!
Another Museum is Eerste Friese Schaatsmuseum which have the world's largest and most varied skates collection. You can go there to know more about the Frisian 'Elfstedentocht' (Eleven Cities Tour) to inspire you more places to visit.
Port: if you like ships, boats and the sea you should go for a walk to the harbour. It makes that picturesque little town more attractive and interesting for different type of people.
Pictures: The last but not the least, you should not forget to take the camera with you. For sure, you are going to want to take photos in almost every place, one with the houses, another with the canals, more with the sea behind you. A good moment to take incredible photos is sunset on the beach.
In short, Hindeloopen is a town where you should get lost and you can find a nice atmosphere enjoying the calm and the feeling that it transmits because the authentic houses near the sea which make you feels being thrown back into the past.