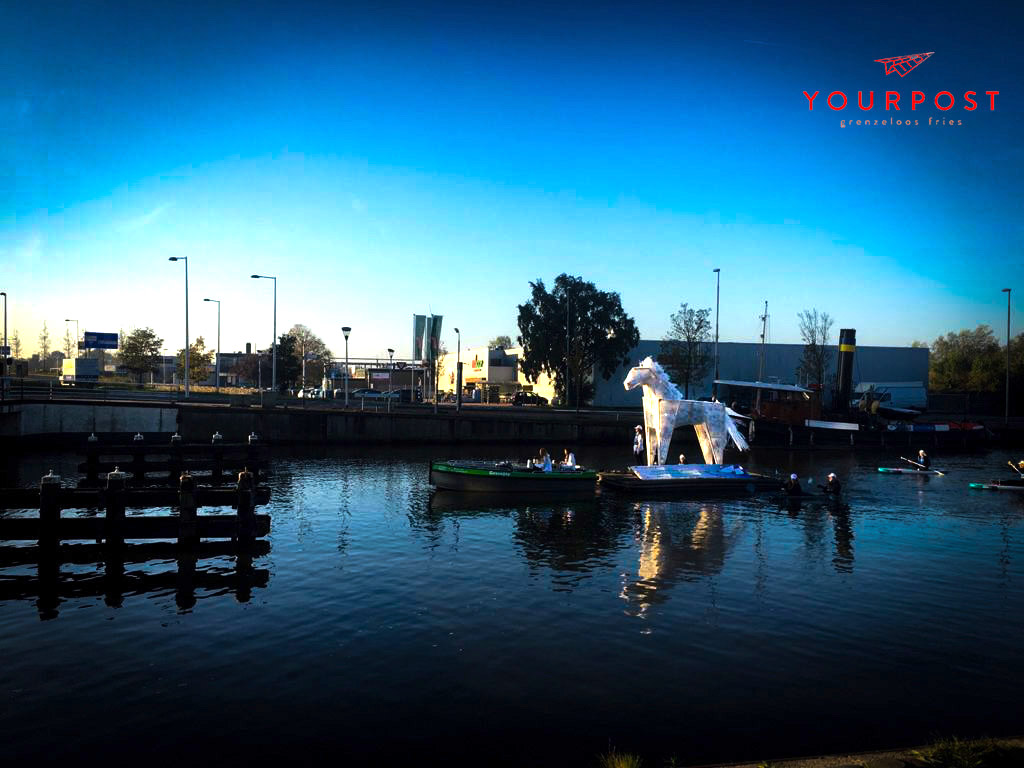 You may have seen it: the big, plastic horse that was floating through the canals of Leeuwarden. Youth movement 'The Green Alert' took action to ask for attention for the plastic problem that is getting bigger and bigger. YourPost came in contact with Julia van der Meer, intern at O3 Leeuwarden and with that also a part of The Green Alert.
By: Marijke Hoekstra & Jelina Hiemstra
"Don't let the plastic invade your life like the horse invaded Troye", is the slogan. Julia: "We started using the plastic like it was a good thing, it was cheap and reusable!  But eventually it turned out that this plastic was our biggest problem."
Preparations
The preparations for the Frisian Trojan Horse project already started before the summer holidays with the making of the smaller Trojan horse. This horse stands for the amount of plastic in the oceans at this moment. The bigger horse that floated through the canals is the problem in ten years: three times as big if we don't do anything.
"Together with the team I made sure that the route was planned, that the bridges were open on time, that the horse was done and that the communication went well." On the day itself Julia was also on the water with the whole team.
"We had to think of every small detail. The hoodies we wore were made in a sustainable way and the boats that we used to pull the horse were electric." Everything was mapped, "even the ribbon that had to be cut and the trash bags on the boats."
Attention for this problem
With this project, The Green Alert has largely reached their goal. They wanted attention for this problem, and by getting on front pages of papers, they managed. In addition, they exchanged people's plastic bottles to eco-friendly water bottles on the day the horse went in the water. In this way, they also changed people's behaviour in a positive way.
One world
According to Julia, they are not done yet. Julia: "We are very busy developing new projects for The Green Alert". When asking why she is so committed to this problem, Julia says: "We only have one world and we have to be careful with it. We polluted the world already very badly, so it is also our responsibility to clean it up again and fix our problems. I want my children or grandchildren to live in a beautiful, healthy world."