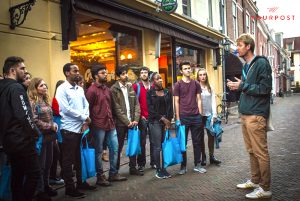 Almost 100 international students  gathered together the last 15th of October in front of the Town Hall door in the center of Leeuwarden. What could have brought them there? The answer is Ferd Crone, the mayor of Leeuwarden. He has been in office for almost 11 years and two weeks ago he welcomed the international students to the city.
By: Martina Andrés Galindo – photos: Tania Poyuelo Montes
What were we expecting?
Some weeks ago we received an e-mail with a very curious invitation, an invitation to meet the mayor of Leeuwarden. When you are studying in the Netherlands, you realize how close people are, no matter the hierarchy, everyone is equal here. You can appreciate this in the classes, when teachers introduce themselves to students and talk about their lives, and also it can be seen in invitations like this. In Spain, is not usual that the major of a town as important as Leeuwarden is willing to meet with the students. That is why this invitation was a surprise, a good surprise. And, as a surprise, we did not know what we were going to find.
The building
The Town Hall of Leeuwarden was the palace of the Royal Family. "We are very proud that the Royal Family come from this city", said mayor Crone during the welcome speech he made in the beginning of the event.  From the outside, you will never imagine how it is in the inside, with this big and majestic room where we heard the speech of the mayor and also, these rooms in the ground floor that looked like caves where we were received with drinks and food.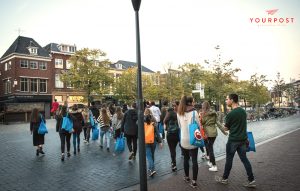 Why is Leeuwarden special?
"Leeuwarden is a little bit like Amsterdam", the mayor said. "We have the same canals, but it is not so busy and overcrowded, we have a lot of monuments." As we know, this year Leeuwarden has been the Culture Capital of Europe. As the mayor explained, this is a big thing because they were elected by an international jury and they won the competition with other cities in the Netherlands. They are very proud of it.
Dairy products and dikes
"We are specialized not only in tourism, but also in water and in the dairy industry.", he told us. Here in the Netherlands, and also in Friesland, they have learnt to build dikes to protect their cities against water floods from the sea. Actually, as the mayor said, the word "dike" is a Frisian word used in many other languages.
Other thing Frisian people are experts in, is in dairy industry. "From the cows, until the milk you buy in the supermarket". Many people in the world know about Frisian Flag milk products, they are in several parts of the world. What they want to do is to make this industry sustainable, basing it on a circular economy and be able to have better milk and cheese products. If you have not tried Dutch cheese, you really should!
The mayor's speech finished with this sentence that will also close this article: "Enjoy it, enjoy our city and be part of the family of our city. Good luck with your study and your stay in Leeuwarden."